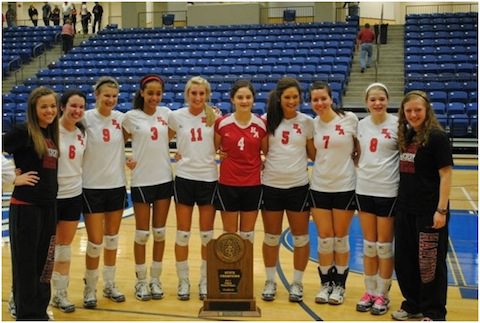 02 Nov 2011

Harding Academy wins state volleyball title

by Donna Lampkin Stephens


In only their second season of varsity volleyball competition, Harding Academy's Lady Wildcats took home a state championship last weekend.


Harding Academy, which finished the year 33-2, knocked off Mansfield, the 2009 state champion, 25-9, 18-25, 27-25, 25-14, in the Class 3A final at Conway High's Buzz Bolding Arena.

"It has definitely been overwhelming," Lady Wildcat coach Michal Giboney said Monday, two days after their triumph. "I just can't give the girls enough credit. They're an awesome group."


The school started a volleyball program four years ago. It didn't have to look far for a coach. Giboney, the wife of Harding University volleyball coach Keith Giboney, teaches math at the academy and assists her husband with the collegiate team.


The Lady Wildcats built from the junior high. This was the first year for them to have seniors on the roster, which only included eight players.


Sarah Coleman, a middle hitter, is the only senior. Giboney said she would be difficult to replace. The roster also included juniors Madison Burks, outside hitter; Emily Giboney, setter; Kami Adams, middle; Rosemary Michael, right side; Katelyn Holt, outside hitter; and Lexi Holcomb, the team's utility player; and sophomore libero Shelby Gowen.


Harding Academy lost to Batesville, which reached the Class 5A State Tournament, in the first match of the season. Its only other loss came against Ridgefield Christian of Jonesboro in a tournament at Arkansas State in September.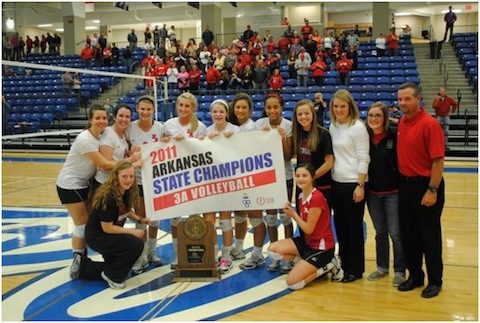 The Lady Wildcats breezed through the 3A-Central unbeaten. In the state tournament, they beat Piggott in three games; Fountain Lake, which eliminated them in last year's quarterfinals, in four; and Conway Christian in three to reach the final against Mansfield — which didn't lose a game in the tournament until the final.

"I have to attribute it to our girls," Giboney said. "They are just good competitors; they work hard and do whatever I ask them to do, and they just have a will to win."

Last year, in their inaugural run through the league, they finished 12-2, losing only to Conway St. Joseph, which played in the state final in 2009 and '10, en route to a quarterfinal finish in their first state tournament.

"I just think winning breeds winning," Giboney said. "They had success last year in their first true season and just built on that. Everybody felt we would be better because we didn't lose anybody from last year.

"They had this quiet confidence about them. I would never say they were cocky, but they just had this confidence that they weren't going to get beat."

Little Rock Christian was the only other 501 team in the state finals. Little Rock Christian fell to Greenwood in the Class 5A championship match in four games.

Greenwood had finished runner-up in 2006, '07, '08 and '09.

With Coleman graduating, Giboney said she hoped she had built the pipeline for reloading.

"But you never know what you're going to get," she said. "Four years ago, I knew this group would be good, but I'm not sure I really thought in this amount of time they'd be state champions."

Not many people did.