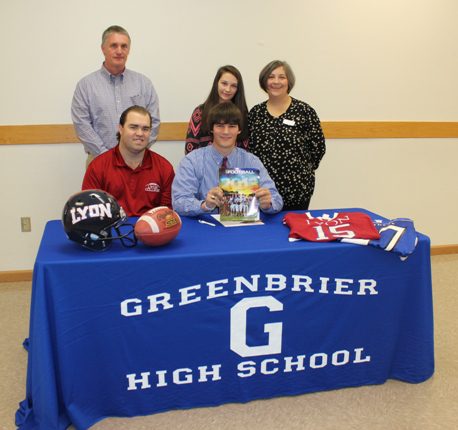 22 Jan 2014

Hard work, determination pay off for Greenbrier senior

by Sonja J. Keith


Greenbrier's Sam Burchfield is the poster child for what determination and hard work can provide, according to his coaches. As a result of his efforts, Sam will be a member this fall of the inaugural football team at Lyon College at Batesville.

Sam has played football for six years. He was playing soccer when approached about playing football when a need for a kicker arose. "I tried it out and it worked in my favor." With an interest sparked in football, Sam decided to focus solely on the sport, giving up soccer.


"I played nearly every position," he said, from offensive lineman and receiver to linebacker and kicker.


Sam is excited about the opportunity to help Lyon launch its football program and "getting to be a part of something new and a leader in restarting it," adding that the school has an impressive reputation for academics. He plans to major in business administration.


While Sam considered other schools, Lyon was the only one that offered an athletic scholarship. "When I went to visit, it was love at first sight," he said. He will be joined at Lyon by Vilonia High players John Alexander and Nathan Max.


"I have been blessed to play with coaches with such class and love of the game," Sam said.


Sam also credits former UCA player Curtis Burrow of Wooster for his help in training, since the eighth grade. "He's the main reason I'm getting this offer and getting to fulfill my dream."


In addition to family, coaches and faculty, Greenbrier High students also attended the signing ceremony and greeted Sam with cheers and applause. "This is a big day in the life of Sam Burchfield and for Greenbrier," said athletic director Steve Wood.


Junior high coach Phillip Golden congratulated Sam and his family, sharing with those gathered that he remembers one game in particular against Little Rock Christian that was decided by a field goal by Sam. "That's something I will never forget."


Golden described Sam as the poster child for hard work and how it can pay off. "I've never had a child work harder," he said. "He's worked hard and deserves this."


High school coach Randy Tribble echoed Golden's comments. He said Sam came into the program with commitment and a vision of what he wanted to be and contribute to the team. "Sam was determined and knew if he put the work in he could be a great kicker," he said. "We're really proud of him."
In thanking God, Sam said he was truly blessed and otherwise, the opportunity to continue playing football on the college level would not have happened. He also expressed his appreciation to his parents and family, coaches, friends and teammates.

A lifelong resident of Wooster, Sam is a son of Amy and Travis Burchfield. He has two siblings – sister Scout and brother Lee. Sam is a member of Fellowship of Christian Athletes and the Association of Christian Students. He is also active in the youth group at Pleasant Valley Baptist Church.

Sam's signing represents the third for Greenbrier High School this year – Autumn Russell signed to play softball for U of A and Ashley Anderson signed to play softball at Arkansas Tech University. Two additional Greenbrier athletes are expected to sign letters to play on the college level in the weeks ahead.