11 Sep 2023

Happy Daze are here again

Posted at 9:14 AMh

in

News

The Kiwanis of Conway recently awarded more than $40,000 to area nonprofits after the 41st Annual Toad Suck Daze 10k/5k Run and Tadpole Trot.

More than 1,300 people participated in the popular events that were presented by Conway Regional Health System and the Kiwanis Club. The events, held May 5 and 6 at John McConnell Stadium at Conway High School, included a 10k Run/Walk, 5k Run/Walk and Tadpole Trot races for children.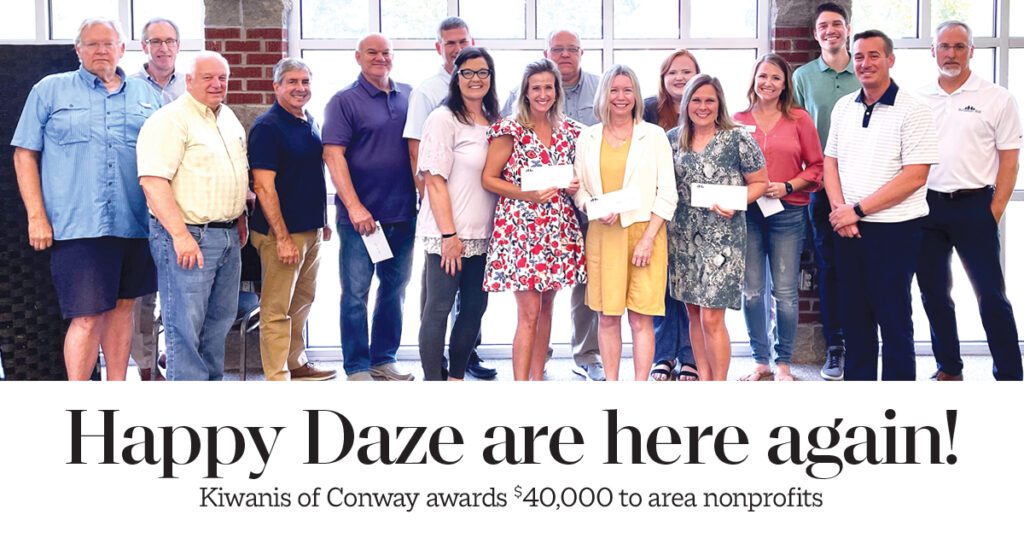 "The success of this race was the culmination of hard work by a dedicated team of volunteers, a supportive running community, and our valued sponsors," said Cole Schanandore, race chair for the Kiwanis Club. "Runners from 12 states, stretching from New Jersey to California, lined up at the starting line this year, and together, we raised significant funds that will uplift and benefit the children in our local community. We are looking forward to pushing the bar higher in 2024!"
Over the years, the race has raised more than $490,000 for nonprofit organizations, according to Jessica Faulkner, immediate past president of Kiwanis. At a meeting in June, the Club presented checks totaling more than $40,000 to a variety of local non-profits that have programs for children, including Compass Academy, CSI Youth, Boys & Girls Club of Faulkner County, Children's Advocacy Alliance, Community Connections, Haven, Milestone Services, Inc., Main Stage Education Series at Reynolds Performance Hall, Deliver Hope and the Jerry Cooper Sensory Play Trail at Laurel Park.
"We thank everyone who made the 41st Annual Toad Suck Daze Run a huge success!" Faulkner said.
The Tadpole Trot brought in more than 330 kids ranging from 3 to 10 years old. Each age division had a girl and boy winner. Depending on age, the length of the run varied. After each division competed, a small awards ceremony was held for the top three finishers.
The Toad Suck Daze 10k/5K brought men and women from all over the United States. With more than 550 in the 5K and 420 in the 10K, the downtown streets were flooded with avid runners. At the end of the race, various awards were given for major accomplishments. This year, a tradition was started in memory of Don Potter who was a long-time runner in the Conway community and a Kiwanian. The "Move your Parts" award was presented to the youngest male and female 5K finishers.
While the Kiwanis Club is the main organizer of the event, the Conway Running Club offered support. Conway Regional Health System was the Presenting Sponsor and other major sponsors were Centennial Bank, Total Tire and Auto, 501 LIFE Magazine, Arkansas Eye Care Group, Arvest Bank, Conway Corporation, Farris Therapy, Maly Group, Bears Den, Ott Insurance, Smith Ford and Superior Automotive Group. To see race results, visit toadsuckrun.com. Next year's run will again coincide with the annual Toad Suck Daze Festival in Conway.