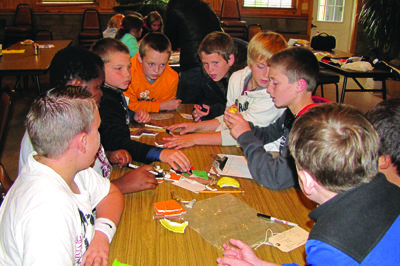 26 Dec

Hands-on program at Winthrop Rockefeller Institute

Gifted and talented students from two elementary schools recently participated in an exercise that gave them an opportunity to create their own cultures and to discover and interpret an unknown culture.


The fourth annual "Project Dig" is a curriculum designed by Jerry Lipetzky of Interact (www.interact-simulations.com) and orchestrated by Dr. Skip Stewart-Abernathy of the Arkansas Archeological Survey Station, a partner with the Winthrop Rockefeller Institute.


During the program, students at Morrilton Intermediate School and Dardanelle Elementary invented their own cultures and brought them to life by creating artifacts from oven-baked clay. These artifacts represented various core values and principles they chose for that culture, including marriage and death rituals, the structures they built as houses, and how the members of the cultures obtained food.

In early November, each team then brought their culture's artifacts to the Rockefeller Institute on Petit Jean Mountain, where they were broken and spread on the surface of mock dig sites. Students from each school, in turn, came to the Rockefeller Institute, placed a grid over the other school's artifacts, and conducted controlled surface collection under the guidance of staff members from the Arkansas Archeological Survey Station at the Rockefeller Institute. Station archeologist Stewart-Abernathy and staff members Larry Porter and Terry Johnson taught the students about the proper techniques and methods involved in an archeological excavation. The students then took their findings back to their schools and spent the next several weeks reassembling the artifacts, and from them, reconstructing the culture the other school created.

The concluding event was a formal research symposium held Dec. 7 at the Rockefeller Institute's Rock Theater. Based on their archeological findings, research teams from Dardanelle and Morrilton "Universities" gave an "etic" or outside analysis of the fictional societies they discovered. The students from Dardanelle interpreted their findings of Morrilton's "Onaclov" Culture, who saw volcanos as sacred, lived in an extinct volcano, and held annual Beach Olympics. The Morrilton students explained the evidence they found of Dardanelle's "Ecaepian" Culture, a group that was once divided by two brothers who fought a war over land, but now lived in peace. Each team then provided their own "emic" or inside analysis of the culture they built.

The Winthrop Rockefeller Institute and the Arkansas Archeological Survey thanked Rachelle Brown of Dardanelle Elementary and Monica Harken of Morrilton Intermediate School for giving their students the opportunity to participate in the Project Dig program.

For more information about Project Dig, contact Skip Stewart-Abernathy at 501.727.6250 or [email protected]. To learn more about other archeology programming at the Rockefeller Institute, visit LiveTheLegacy.org.