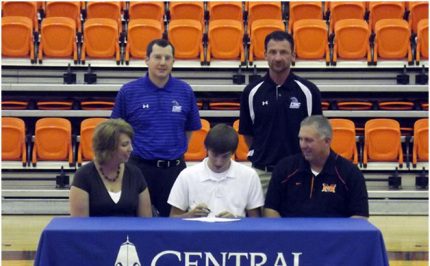 02 Jul 2012

Hamby signs with Central Baptist

Aaron Hamby, a senior at Magnet Cove High School, signed a national letter of intent to play basketball for Central Baptist College in Conway.

Hamby, a 6-foot-4, 175-pound guard, averaged 12.6 points per game while helping to lead the Panthers to their first-ever district championship and a trip to the class 2A state tournament.


Hamby led the Panthers in rebounding at 6.2 per game while also posting his team's best 3 point and total field goal percentages at 34 percent and 53 percent respectively.


He has been named to the 5-2A north conference All-Conference team the last two years.


In addition to basketball, Hamby is also a standout track athlete, receiving All-State track honors the last two years as a member of the class 2A state champion 4 X 800 meter relay team in 2011 and 2012.


Academically, Hamby has a 4.0 GPA and was an honor graduate. He plans to pursue a degree in physical therapy. In addition to his athletic and academic achievements, Hamby is also active as a leader in his church, BETA Club and a huddle leader for Fellowship of Christian Athletes.