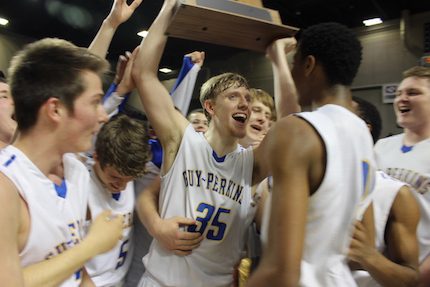 16 Mar 2017

Guy-Perkins, Quitman win state championships

by Levi Gilbert


The 501 fared well in last week's high school state championship basketball games. Guy-Perkins, led by 501 Basketball Team honoree Jahcoree Ealy, won the 1A boys' championship — Coach John Hutchcraft's 10th ring; and the Quitman Lady Bulldogs won in the 2A girls' bracket.


Guy-Perkins led Shirley by five heading into the fourth quarter, and exploded for 24 points to extend their lead when it mattered most.

"In the fourth quarter, each player came up with big plays," Hutchcraft said. "Jahcoree finally made his 3-point shot, and scored five points on drives to the basket. Daniel (Dorado) had a great block on a shot. Trey (Minton) made six high-pressure free throws. Wyatt (Spires) had two big rebounds, and Josh (Ballard) scored and had two assists. All this happened very quickly in the fourth quarter."


Ealy finished with a double-double (25 points and 11 rebounds) in the final game of his high school career.
"Jahcoree is what you call a clutch player," Hutchcraft said. " I look for him to play his best when the game is on the line. A couple of things I remembered after this game was that Wyatt Spires carried us in the first quarter with 10 points and five rebounds; he had a really good game overall. Trey handled the stall game well and drew fouls and made his free-throws."

This game marked the 19th time a Hutchcraft-led team played in a championship game. While they've all been special, this one does hold a special place.

"Well, the 10th championship win was big because I came into it with nine runners-up and nine state championships," Hutchcraft said. "This win put me on the plus side of more wins than runners-up. I also would say that this group of boys was a special group because of their personalities and attitudes. It was very enjoyable to watch them play.

"On a personal note, I've been fortunate enough to play in state championship games with all three of my children and now my grandson, Wyatt Spires."
After more than 40 years of coaching, Hutchcraft admits that the end is now in sight. "I have my eyes set on one more ring in 2018," Hutchraft said. "My grandson, Wyatt, will be a senior, and I jokingly tell everyone when Wyatt graduates, I'm going to graduate, too. It is safe to say my coaching career is almost over."

The Quitman Lady Bulldogs stifled Hector with an overwhelming defense. Quitman held Hector scoreless in the first quarter, and gave up only 22 points in the game.

"We have been a great defensive team all year," Coach Tim Hooten said. "Our girls have bought into the philosophy that 'offense wins games, but defense wins championships.' Having played Hector in the semis of the district and the finals of the regional, we had a good handle on their offensive sets. We were determined that Hector was not going to get off to a fast start."

The Lady Bulldogs had two players finish with a double-double — Reagan Rackley (21 points and 12 rebounds) and Rieley Hooten (11 points and 13 rebounds).

"Reagan and Rieley have played well in big games all season long," Hooten said. "They are the leaders of this team. Nicki Hooten made a great lob pass to Reagan in the third quarter. Lou Garza had a steal and could have taken it all way to the basket, but gave the ball up to Reagan who was ahead of her on the break. Aspen Johnson made several assists to Reagan and Rieley. Got to love unselfish play."

This is the fourth state championship for Hooten, but his first in girls basketball and his first in Arkansas. "I coached boys to a state championship in Idaho in 2003, and two boys state championships in South Dakota in 1994 and 1991," Hooten said. "I will remember the tremendous work ethic of this team. They remind me of my boys' 1991 team."

Brooke Zimmerman, a 501 Basketball Team member, and the Wonderview Lady Daredevils lost to Bay, 40-35.
State Championship Scores:
1A Girls – Bay 40 vs Wonderview 35
1A Boys – Guy-Perkins 67 vs Shirley 57
2A Girls – Quitman 45 vs Hector 22
2A Boys – Earle 81 vs Marked Tree 62
3A Girls – Hoxie 51 vs Valley Springs 40
3A Boys – Episcopal 61 vs Tuckerman 47
4A Girls – Pottsville 46 vs Pocahontas 54
4A Boys – Pea Ridge 51 vs Baptist Prep 59
5A Girls – Parkview 46 vs Watson Chapel 64
5A Boys – Parkview 61 vs Mills 64
6A Girls – Sheridan 40 vs Marion 50
6A Boys – El Dorado 57 vs Jonesboro 74
7A Girls – NLR 49 vs Fayetteville 59
7A Boys – NLR 49 vs Northside 50