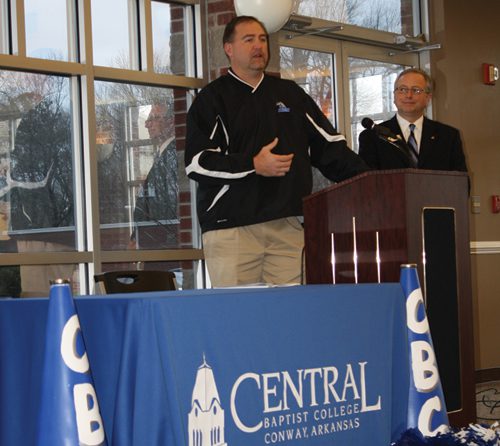 22 Mar 2010

Growth continues for CBC

"Greg Hatcher – to say he's a wrestling enthusiast would be an understatement," Kimbrow said. "His real love is high school wrestling. There are almost 50 high school wrestling teams and one college wrestling team in Arkansas. If you get beyond Arkansas, wrestling is a huge sport."

After meeting with Hatcher, Kimbrow and Middleton met with other CBC administrators and staff. The group held a secret ballot and voted unanimously to add men's wrestling and women's golf. The CBC Board of Trustees also voted unanimously to add the sports.

"[Wrestling] is a wholesome sport," Kimbrow said. "We saw this opportunity, but when [Hatcher] told us he would pay for a wrestling mat, which is a $12,000 cost, and first year uniforms, plus help us with a search for a coach . . . It was almost too good an offer to pass up.

"To complement men's wrestling, we are bringing back women's golf, which we dropped a few years ago. The men's team is strong, and we felt like we could bring women's golf back."

The search for a coach has begun. "We are anxious to get started recruiting from the nearly 50 high school wrestling teams in Arkansas and in other states with wrestling programs," Kimbrow said.

CBC will also receive help from the National Wrestling Coaches Association in scheduling for the first few years.

"Wrestling is new to me and also to our organization," Middleton said. "There are 38 NAIA schools that offer collegiate wrestling. The weight classes start at 125 pounds and go up to 285 pounds. Hatcher assured us that in our first year we would get to host a lot of matches."
CBC joined the NAIA conference last year and will compete in the Central Region in wrestling, facing Missouri Valley, Briar Cliff (Iowa), Baker (Kan.), Bacone (Okla.), William Penn (Iowa), York (Neb.) and Waldorf (Iowa).

Middleton, who also coaches women's basketball, baseball and men's golf, will take over the women's golf program. He said women's golf was previously discontinued because of a "lack of interest" and because it lacked a postseason tournament. CBC moved to the NAIA conference last year, and it hosts a national tournament for women's golf each year.

With the addition of men's wrestling and women's golf, CBC now sponsors 12 athletic programs, including men's and women's basketball, baseball, softball, volleyball, men's golf, men's and women's soccer and men's and women's cross country.