22 Sep 2019

Groundbreaking for UCA Greek Village

Posted at 3:14 PMh

in

News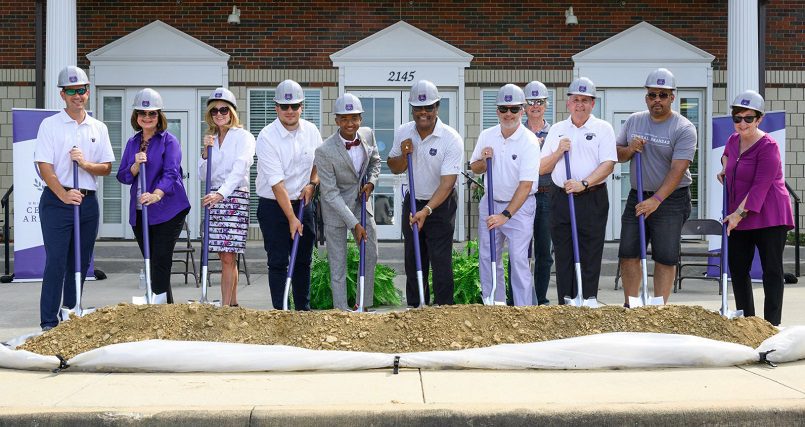 The University of Central Arkansas recently hosted a groundbreaking for Greek Village Phase II on campus.
Phase II includes Interfraternity Council (IFC) houses for Sigma Tau Gamma, Sigma Nu and Pi Kappa Alpha, along with a National Pan-Hellenic Council (NPHC) fraternity complex that will house meeting spaces and chapter rooms for Alpha Phi Alpha, Kappa Alpha Psi, Omega Psi Phi and Phi Beta Sigma.
"Greek Village Phase II would not be possible without the vision, contributions and dedication of our Greek alumni," said UCA President Houston Davis. "Our Greek system and their alumni contribute greatly to the quality of campus life and our community."
The project is made possible through private donor support from Greek alumni, parents and students. Each fraternity has a fundraising chair and committee.
"Our fraternity fundraising committees have been incredible to work with, and I can't give them enough praise. Through their efforts, we have raised more than $1.4 million for Greek Village from over 700 donors," said Haley Fowler, director of annual giving. "Our fundraising efforts will continue as we work together to raise funds for amenities and furnishings."
Definitive talks for the second phase of Greek Village began in 2018. The UCA Foundation is funding the project to support the university. UCA will lease the fraternity houses from the UCA Foundation, and UCA will maintain and operate the houses as residence halls.
Each fraternity house will be approximately 7,365 square feet and include 11 bedrooms for 20 students, a chapter room, living room, study room and kitchen, with other amenities specific to the current and future needs of the individual fraternities. 
The NPHC fraternity complex will be located adjacent to the NPHC sorority complex and will include 4,730 square feet of chapter rooms and other features to support the meeting and event needs of each chapter.
"The completion of Phase II will be a dream come true for our Greek fraternities and further elevates Greek life at UCA," said Ronnie Williams, vice president for Student Services and Institutional Diversity. "This brings all of our Greek fraternities and sororities closer together physically and figuratively, fostering opportunities to build deeper relationships, strengthen academic support structures and expand service opportunities."
Greek Village Phase I opened in August 2015 and included residences for the five sororities of the Panhellenic Council and an NPHC sorority complex.
Some of the primary areas of focus for Greek organizations include scholarship and service. Currently, more than 1,000 students are members of the Greek community at UCA, with a cumulative 3.24 GPA for the spring 2019 semester.
Last year, UCA Greeks participated in more than 800 volunteer projects, donated more than $42,000 in philanthropic support and logged more than 11,000 hours in community service.
"In addition to academics, our Greek men focus on becoming exceptional leaders in their fraternities and through campus and community service projects. These new facilities will foster new opportunities for their personal growth," said Kaylon Bradford, director of Student Life.
The new IFC fraternity houses and NPHC complex will be situated at Donaghey and College avenues, near UCA's existing sorority houses and NPHC sorority complex, with an anticipated move-in date of fall 2020. Architects for the project include WER Architects/Planners and H+N Architects. Nabholz Construction is the general contractor for the project.
For more information, contact Haley Fowler at 501.450.5698 or visit uca.edu/giving/greek-village/. Donations to Greek Village II can be made at uca.edu/givegreek.