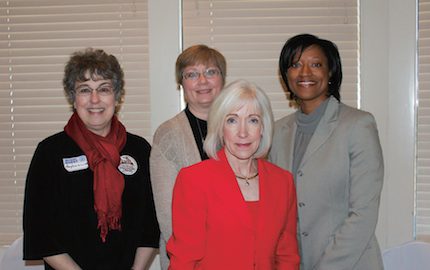 19 Jul 2016

Greenbrier's Terry May retires from coaching

by Donna Lampkin Stephens


Terry May couldn't have picked a better way to go out as Greenbrier baseball coach.


May, 50, retired from coaching following the season after 26 years at the helm of the Panther program. The highlight was the 1996 Class AA state championship; his final two regular-season wins came in a 5A-West sweep of Faulkner County rival Vilonia (9-2, 3-1) in front of the biggest crowd in the history of the Greenbrier program.

And a crowd of about 100 Panther fans — former players, parents, community members — surprised him afterward with a celebration of his career.


"They did way too much, and it was awesome, really awesome," the soft-spoken May said. "We probably had at least 30 or 35 players back; some had driven five and six hours to be here. We sat around a long time and talked about old times. It was really good seeing them all."


Becky May, the coach's wife and a Greenbrier elementary teacher, helped plan the party.


"There were a lot of older players who came back, and you'd hear young men coming up and saying things like, 'He taught me more than baseball. He made me love the game,'" she said. "You heard the word 'respect' over and over again. And the camaraderie — they said you knew he cared more about you than just baseball."


May's final team finished 14-9, third in the 5A-West, and reached the quarterfinals of the Class 5A State Tournament. But, obviously, his career has been about far more than that.


May grew up in Center Ridge and was an all-state baseball and basketball player at Nemo Vista.


Competitiveness came naturally.


"It is in Terry to be the best at whatever he does," Becky said. "His whole family is very competitive. Whether it is ball playing, playing cards, fishing or cooking, his uncles, aunts and siblings all want to be the best, and they want to beat you."


After his graduation in 1984, he landed a baseball scholarship to Arkansas Tech, where he played catcher. As a senior there, he earned all-Arkansas Intercollegiate Conference honors.


"After my first year of college, I knew I wanted to coach," he said.


He earned his degree in physical education and health but didn't have a job lined up when he graduated — or for some time afterward.


"I had already decided to go back to school to be a (graduate assistant) for Dale (Harpenau, Tech's baseball coach)," May said.


But in late summer, Greenbrier had an opening for head baseball and assistant basketball coach, and May was hired in August.


He said he thought it was meant to be.


"I was really lucky to be this close to home, just 15 miles from where I grew up, and to find a baseball job," he said. "Back then, especially, they didn't hire many baseball coaches. To find a job this close and at a place like Greenbrier was lucky for me."


Steve Wiedower, now an assistant for the Little Rock women's basketball team, had been head baseball and assistant basketball coach at Greenbrier. After May was hired, they worked as each other's assistants.


"He brought such enthusiasm to the game of baseball, along with his calmness and discipline that he had with his players," Wiedower said. "Everyone respected him and enjoyed playing for him. I really enjoyed the opportunity to work with him, and he is still a great friend."


Over the years, May also spent time as assistant football coach, head junior boys basketball coach and head golf coach.


"I really loved basketball, but it interfered with baseball too much," he said. "Baseball and football work together (as a coaching assignment), but when golf was moved to the fall from the spring, a football coach couldn't do that, so I stepped into the golf job and did that through this year."


He finished with a career baseball record of 413-210. His baseball teams won nine conference championships, reached the state tournament

"20 or 21 times" and went to the semifinals "two or three times," with the final one in 2010.


At his retirement celebration, May was presented with a bat covered with photos from the '96 state championship run and a memory book containing photos, news clippings and well wishes documenting what his coaching career had meant to so many.
From the memory book:


"Thank you for your guidance, continued support, and instilling in me what it truly means to bleed blue. Babe Ruth once said, 'Heroes are remembered, but legends live forever.' You will always be a legend in my book!" — Colt Harmon, Class of 2011


"Thank you for being a great coach and never taking it easy on us." — Ryan Flake, Class of 2017


"Thank you for everything you have done and the impact you made on this town and all your past players. You've been one of the best coaches I've had and I really appreciate you and your effort." — Hunter Russaw


"Coach May, thank you for teaching me not only lessons in baseball but lessons about life, which I will take with me through the years." — Wesley Waters


"Coach May, the impact you have made on me is something I will never forget, and I wanted to thank you for that." — Lane Herndon


"Coach May doesn't care about his winning %, TMay is about the % of players who become WINNERS!" — Dan Thornton


"Thank you for allowing me to come on the journey and taking me under your wing." — Jacob Giles, 2016 volunteer baseball coach


"I am most thankful, after all these years, to call you my friend." — Jason Miller, Class of 1991


"Thank you for setting such a great example for me to follow when I become a coach. I aspire to be a man of your character and will remember forever all you have done for me." — Cody McKnight, Class of 2016


"Thank you for the life-long memories you have given me. Not only did you make me a better baseball player, you made me a better man as well." — Ryan McKnight, Class of 2015


May met Becky, who teaches fifth-grade science and social studies at Eastside Elementary, during his second year at Greenbrier. She was a new teacher just out of the University of Central Arkansas. The father of one of his players, Rick Whitley (who was elementary principal) introduced them. They were married Nov. 6, 1993, and have three children: Jesse, a senior at Arkansas Tech; Jacob, a recent GHS graduate heading to UCA; and Katie Jewell, who will be a seventh grader.


Becky learned early on about being a coach's wife.


"When we were first dating, Terry and his players and former players would get giddy when they were around each other — hugs, the little shoulder bumps, and the players would say things like, 'Remember when you made me do this, Coach?'; 'How many foul poles did you make me run for that?' Terry started coaching at 23, so for several years, he was more like their big brother.


"But I know the feelings he has toward his boys. They're his. I learned very quickly you did not criticize or comment negatively about his boys. He was very defensive of them. He could say it, but you were not able to say anything negative about his boys."


She said he was also good at keeping secrets — at least the negative ones.


"I would tell the parents, 'If your son did something really good, I might know it, but if your kid did anything bad, I would never know,'" she said. "After a few years, no one would pump me for information."


She said she long ago learned the essence of Terry May.


"He's always going to do what he thinks is fair for each of his players, what is fair to the game," she said. "He's not going to lie, not going to sugar-coat, and the best player plays. We've lost friendships over that, but everybody will say about Terry, if you deserve to play, you're playing.


"It doesn't matter who you are; if you are not performing, you don't play. And that's how it ought to be. He's been very consistent with that."


May, who will remain as dean of students at the junior high, said he had mixed feelings when thinking about his retirement from coaching.


"It feels good in some ways, but I drove by the field the other day, and I didn't know if I would walk out there again or not," he said.


One thing is for sure, though — he will transition into a Panther fan.


"Oh yeah, definitely," he said. "Especially for these seniors I've had for three years. I will definitely be there to see them play in the spring."
Meanwhile, he should get some more time to hunt and fish and take family trips to the lake.


"I'm sure I'll find something to do," he said.