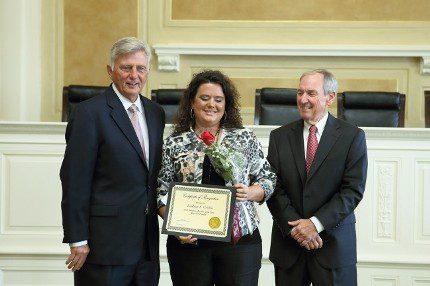 17 Sep 2014

Greenbrier teacher among finalists

Posted at 9:50 AMh

in

News

Four exemplary teachers – including a Greenbrier instructor – were named 2015 Arkansas Teacher of the Year State Finalists at a ceremony Tuesday with Gov. Mike Beebe at the Capitol.

"These four teachers were recognized for their dedication, leadership and commitment to education," said Arkansas Department of Education Commissioner Tony Wood. "They demonstrate innovative teaching practices that encourage learning in the classroom."


Lindsay S. Griffin, a sixth grade literacy teacher at Greenbrier Middle School, was among the finalists recognized at the ceremony.


Other finalists:

Donna C. Dillahunty – Fifth grade English language arts teacher at Marion Intermediate School.
Jayna Moffit – Seventh/eighth grade math teacher, Lincoln Junior High School in Bentonville.
Ouida R. Newton – Seventh-12th grade math teacher, Poyen High School.
From the 15 regional finalists recognized yesterday, four state finalists will compete to become the 2015 Arkansas Teacher of the Year. The ATOY Selection Committee will conduct site visits with the four finalists over the next few weeks. The 2015 ATOY will then be recognized at a surprise notification event.

In addition to receiving a $1,000 award sponsored by the Walton Family Foundation, the top four received an ATOY medallion. The 2015 ATOY will receive an additional $14,000 sponsored by the foundation.

To learn more about nominating a teacher for the program and to see the list of regional finalists, visit http://www.arkansased.org/divisions/communications/teacher-of-the-year.