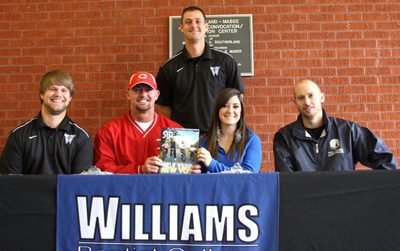 18 Jan 2012

Greenbrier standout commits to WBC

Williams Baptist College in Walnut Ridge has picked up a commitment from Greenbrier Panther standout Brittany Merritt. She recently signed her scholarship in front of family, friends and future teammates at the Southerland-Mabee Center on the campus of WBC.


Merritt has been a four-year letter in softball, and has been voted to the all-conference team twice. Also, she has received the award for best infielder. Merritt was a member of the 5A state championship squad.


She will be joining a Lady Eagle squad that is ranked 18th in the NAIA, and has won a share of the last two regular season American Midwest Conference championships.


"We believe it takes a special person on and off the field to compete for Williams Baptist College," said head coach Eric Newell in front of the large gathering. "Brittany fits that mold perfectly."

She is the daughter of Heath Merritt and Danielle Meek, both of Greenbrier.


Williams is a four-year, liberal arts college at Walnut Ridge. The Eagles compete in the American Midwest Conference of the NAIA.