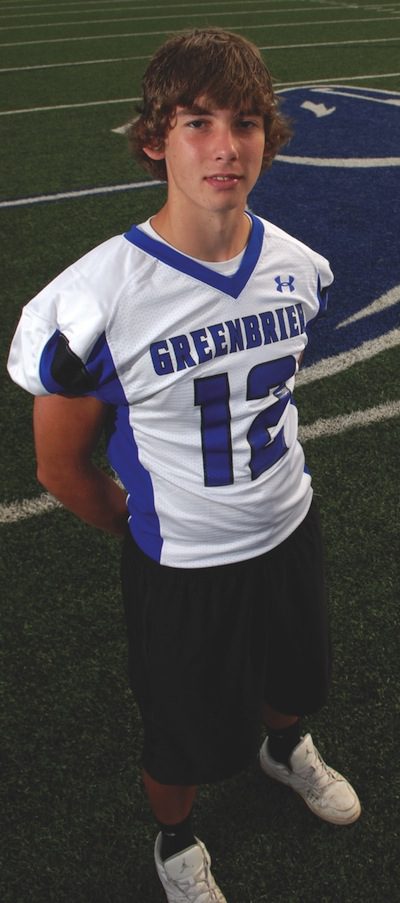 16 Aug 2011

Greenbrier quarterback featured on ESPN

Neal Burcham's triumph in ESPN's Elite 11 quarterback competition will air on the cable channel at 6 p.m. Friday, Aug. 19, as part of its Year of the Quarterback programming.


The Greenbrier senior came from off the radar, having had to earn his invitation to the 24-player camp at Pepperdine University in Malibu, Calif. But he emerged not only as one of the 11 finalists but also as one of three MVPs — along with Tanner Mangum of Eagle, Idaho, and Jameis Winston of Hueytown, Ala. — from the camp July 18-22.


The first of the two hour-long programs ran Aug. 12 on ESPN.


"I had so much fun," Burcham said.


Mangum is a BYU commitment. Others among the final 24 have committed to Purdue, Texas, Miami, Colorado, Wisconsin, Clemson, California, Washington, TCU, Michigan State, Boise State, Auburn, North Carolina, Oregon, Iowa State, Kentucky and Utah.


Burcham has offers from the University of Central Arkansas and Arkansas State, but he is expected to have many, many more before he settles on a choice following the season.


"I feel like a lot of distractions can break a team down, so I'm going to take it slow and we're going to try to win a state championship, first and foremost," he said.


According to ESPN, Elite 11 alumni include current NFL players Mark Sanchez, Matt Cassel, Matthew Stafford, Josh Freeman, Troy Smith, Vince Young, Matt Leinart, Tim Tebow and Blaine Gabbert.


Trent Dilfer, the former Super Bowl champion quarterback now working as an NFL analyst, led the coaching staff.
Burcham said there was a bit of an adjustment after he returned to Greenbrier from Malibu.


"A lot of guys looked at me different, but I'm still the same old Neal Burcham," he said.


For more details about Burcham and the Elite 11 competition, see the October issue of 501 LIFE.