08 Aug 2015

GREENBRIER: Panthers reload for another run

Conference: 5A West
Coach: Randy Tribble
'14 Record: 8-4 (5-2)

The Greenbrier Panthers came on strong in the last half of the 2014 regular season, winning their last four 5A West games. The momentum carried over into the playoffs as the Panthers won in the first round over Watson Chapel, 36-28.

"Last year had its frustrating weeks," said Coach Randy Tribble, who passed the 50-win mark at the school in 2014. "Losing to Morrilton in the fourth quarter and then losing to Maumelle was frustrating. It was also rewarding winning five in a row in Weeks 7, 8, 9, 10 and 11. In those wins, we saw our team mature and come together and find different ways to win."


The Panthers rushed for just less than 2,000 yards in a one-back offense (graduated running back Karson Matthews rushed for more than 1,700 yards), and the Panthers' two-quarterback system accumulated more than 3,000 passing yards.
"We were pretty balanced on offense," Tribble said.

Greenbrier will look to continue that balance this fall.

Senior Harold Ross returns at quarterback. Senior Shawn Howard and junior Cody Hopper will both see time at running back. Seniors Ben Wilson, Carter Coats and T.J. Roberts and juniors Alex Massey and Brandon Thomas will lead the way in the Panther receiving corps.

Senior 501 Football Team honoree Logan Cope leads the offensive line at center. He'll be joined on the line by juniors Cody Bradley, Petey McNeil, Austin Avery and Kyle Harshberger and senior Brody Hogg.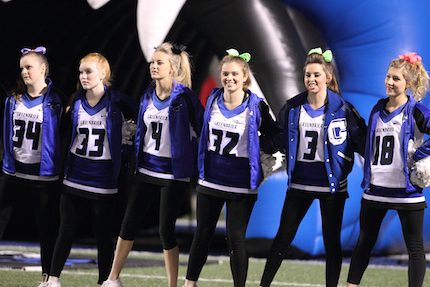 Greenbrier will field nine new starters in its 4-3 defense. Seniors Tre Crawford, Connor McGuire and Cope and juniors Jimmy Strough and Harshberger will all see time on the defensive line. Senior Sam McNabb leads a talented group of linebackers, including classmate Jesse Buchanan and sophomore Allen Hayes. Howard, Roberts, Massey and senior Brock Meek make up the secondary.

"We have lots of new faces, but we will be in the mix for a playoff spot," Tribble said.