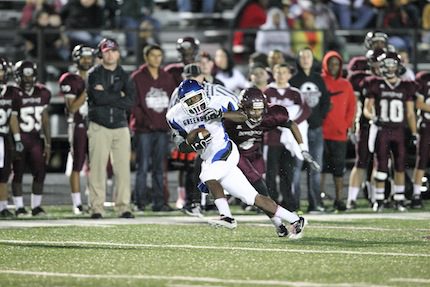 11 Aug 2013

GREENBRIER: Panthers hoping players step up

Conference: 5A West
Coach: Randy Tribble
2012 Record: 11-1 (7-0)


The Panthers opened 2012 with a 35-0 shutout of Beebe, and they never looked back. Greenbrier's explosive offense propelled the team to a perfect regular season finish, averaging 41 points per game.

But only two starters return to the Panthers' Spread offense, and just four are back on defense, presenting more than a few question marks for Coach Randy Tribble heading into the fall.


Junior left tackle Sam Colbert and senior receiver Gerrell Williamson are the two lone returning starters on offense. Several underclassmen have a great opportunity to step up this fall: juniors Jordan Pearson, Jacob Cummins, Caleb Corrigan and Tristan Carter on the offensive line (and all also will see time on the defensive line) and junior Will Drewry at quarterback. Senior Jordan Patton gives the Panthers more balance at receiver.


Junior Tyler Bush is the sole Panther returning at linebacker, while the secondary is much more solidified with returning seniors Jake Buchanan (a 501 Football Team honoree) and Garrett Brewer at corner and Kevin Reynolds at safety. Junior Austin Porter will also find time in the secondary, junior Ethan Edwards will help round out the linebacker corps and juniors Chase Weatherly and Cody Smith man the end positions on the defensive line.


"[All these juniors are] guys that were on the team [last year] but didn't play much," Tribble said. "They're expected to carry a big role this year.


"We're a young and inexperienced team with a small senior class. How fast can we grow up? There's too many question marks at this time."


Schedule
Sept. 6 at Beebe
Sept. 13 Texarkana
Sept. 20 Benton
Sept. 27 at Huntsville
Oct. 4 Harrison
Oct. 11 Morrilton
Oct. 18 at Clarksville
Oct. 25 at Shiloh
Nov. 1 Alma
Nov. 8 at Vilonia


501 Football Team 2013 – Jake Buchanan
Nominated by Coach Randy Tribble
Classification: Senior
Position: WR/CB
On the field: Plays hard, coachable, smart, great attitude.
Off the field: Unselfish, good friend, gentleman, great attitude.
Community work: Involved in community service through his church.
Sportsmanship: Gives his best, fair and honest, encourages others, will help young players.
Classroom: Super conscientious student, respectful to his classmates, helpful to classmates.
Expectations: To be a two-way player, to provide leadership and be a great example!
Last season: Started all year on defense and played as a backup on offense.