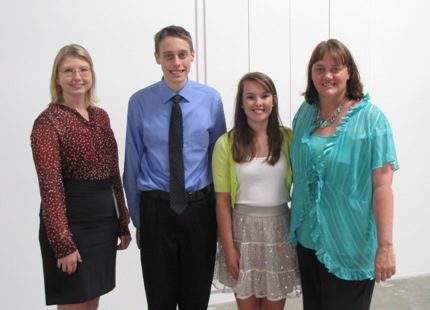 19 Aug 2013

Greenbrier High School students receive technology grant

Posted at 3:18 PMh

in

News

The EAST (Environmental and Spatial Technology) program at Greenbrier High School has received a $5,000 grant from BHP Billiton Petroleum for a student-led project to help students improve their real-world skills and problem solving through technology.

"More than 100 students will benefit from this grant," said Kim Austin, a faculty member at the school and grant facilitator for the EAST program. "Our multiple software programs allow students to learn about specific skills they are interested in, from video editing to computer-aided design to music. They learn at their own pace and develop technical, organizational and networking skills they can use for personal development and to give back to their community."


The 10th to 12th grade students submitted the grant proposal to BHP Billiton Petroleum in May, and they were excited to be chosen, said Austin.


EAST is an educational model focusing on student-driven service projects accomplished by using teamwork and cutting-edge technology. Students identify problems in their local communities and then use these tools to develop solutions, collaborating with civic and other groups in the process.


"We enjoy working with students who want to improve their schools and their communities," said Danny Games, external affairs manager for BHP Billiton. "It makes a difference in their lives and in the life of their community."


Each year, Arkansas EAST students complete a minimum of 1.5 million service hours with an economic impact of over $15 million, according to EAST.


Other EAST schools to receive donations from BHP Billiton:


The non-profit EAST Initiative works with schools and institutions across the country to establish and implement local EAST programs, equipping classrooms, training facilitators and providing technical training for students. The EAST method has been named a model by the United States Departments of Education and Labor and has proven, research-based results.