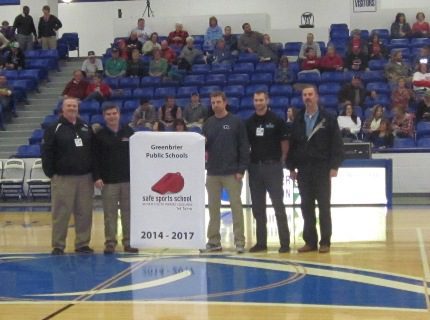 21 Jan

Greenbrier High athletics receives national award

The Greenbrier High School Panthers athletics program has been selected as a recipient of the National Athletic Trainers' Association (NATA) Safe Sports School Award.

Greenbrier, one of only eight high schools in Arkansas to achieve the award, received "first team" recognition for efforts to protect young athletes.


The national award recognizes schools that keep young athletes safe while they are participating in high school sports. The award reinforces the importance of providing the best level of care, injury prevention and treatment.


"The award reflects the commitment of the coaching staff and faculty at Greenbrier toward providing a safe sports environment for our athletes," said athletic director Stephen Wood. "We could not have achieved this award without the support provided by Conway Regional Health System."


The athletic staff at Greenbrier teams with Conway Regional Therapy Center to provide a safe environment by caring for athletes before, during and after injuries to help them return to play.


Athletic trainer Griffin Hawthorne helped the coaching staff apply for the safety award.


Wood and Hawthorne also recognized the need for two additional AEDs. "We realized with the recent addition of the ballfields, the AEDS were needed for the safety of the athletes and spectators at the games," said Wood. Conway Regional Health Foundation donated the AEDs in December. Conway Regional provides AEDs to all the schools in Faulkner County.


Athletic trainers provide a crucial role in maintaining a safe environment for high school athletes:


• Athletic trainers work with each school's coaching staff to establish a safe practice environment and follow physician's guidance in developing a rehabilitation program after an injury.
• On game day, athletic trainers assist physicians in providing immediate care for injured athletes.
• Athletic trainers administer a cognitive test to determine if a concussion has occurred and can make a decision to withhold an athlete from play
• Athletic trainers have specialized training to assist paramedics and EMTs in removing helmets and shoulder pads in such a way to avoid aggravating a spinal injury


In addition to Greenbrier, Conway Regional Therapy Center provides athletic training services at Conway High School, Conway Christian and Central Baptist College.


NATA president Jim Thornton, MS, ATC, CES, said, "There has been an increase in competitive sports, which are, unfortunately, not without risk. Brain injury/concussion, cardiac arrest, heat illness, exertional sickling, cervical spine fractures and other injuries and illnesses are potentially life-threatening." Proper planning with proper equipment and personnel is vital to the safety of student athletes today, he notes.


In order to achieve Safe Sport School status, the Greenbrier High School athletic program did the following:


• Created a positive athletic health care administrative system
• Provided or coordinated pre-participation physical examinations
• Promoted safe and appropriate practice and competition facilities
• Planned for selection, fit function and proper maintenance of athletic equipment
• Provided a permanent, appropriately equipped area to evaluate and treat injured athletes
• Developed injury and illness prevention strategies, including protocols for environmental conditions
• Provided or facilitated injury intervention
• Created and rehearsed a venue-specific Emergency Action Plan
• Provided or facilitated psychosocial consultation and nutritional counseling/education
• Ensured athletes and parents were educated about the potential benefits and risks in sports as well as their responsibilities


For more information please visit: athletictrainers.org.