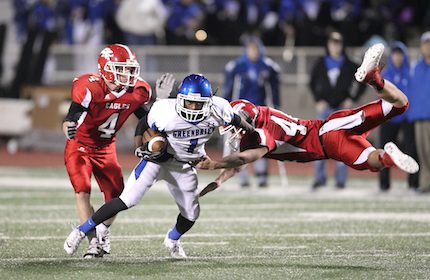 13 Nov 2013

Greenbrier beats Vilonia for First Service Cup, last playoff spot

by Levi Gilbert


Vilonia and Greenbrier entered their Week 10 matchup with more than just Faulkner County bragging rights on the line.


The victor would take the spoils of not only the First Service Cup, but also the fourth and final playoff berth out of the 5A West.

Vilonia jumped off to a good start, getting a short field after an interception, which the Eagles turned into a quick score just a few minutes into the first quarter, 6-0. It was the only lead the Eagles would have and the last time they would score.


Greenbrier scored 48 unanswered points to take the bragging rights, the First Service Cup, the playoff berth and the win, 48-6.


The Greenbrier (4-6, 3-4) offense had the ball most of the second quarter due in large part to an opportunistic defense, led by defensive back Kevin Williamson. The senior recorded three interceptions in the second quarter.


Sophomore quarterback Harold Ross finished the night 15-of-25 for 248 yards, three touchdowns and one interception. More than half of his passing yardage and completions went to senior receiver Gerrell Williamson, who recorded eight receptions for 153 yards and one score.
Karson Matthews had the Panther ground game churning with 150 yards and one touchdown on 21 carries. Senior McKenzie Rogers also scored two rushing touchdowns. Junior Tyler Bush lead the Panther defense with six tackles. Denton King and Cody Smith each recorded a sack.

The game summed up Vilonia's season to perfection. The Eagles (3-7, 3-4) were a scrappy bunch all year, but their season was ultimately decided by a lack of depth due to too many injuries at key spots.

The victory gave Greenbrier its fourth First Service Cup in five years. The Panthers head to Batesville on Friday in the first round of the 5A playoffs.