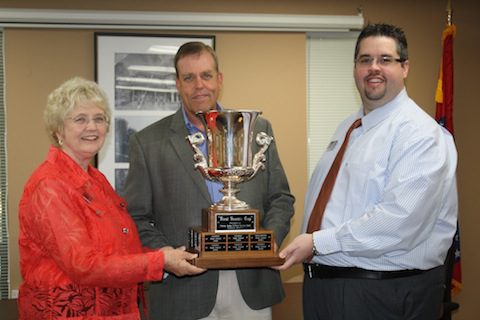 26 Oct 2011

Greenbrier and Vilonia to battle for First Service Bank Cup

by Donna Lampkin Stephens


One of the best rivalry games in the 501 is set for Thursday, Nov. 3, at Vilonia's Phillip D. Weaver Stadium when the Eagles will take on Greenbrier for the First Service Bank Cup.


The game will be the regular season finale. Greenbrier is 8-0 overall, 5-0 in the 5A-West heading into Friday's showdown with Greenwood, also 8-0 and 5-0. Vilonia, which plays host to Harrison this week, is sixth in the league at 2-6, 1-4.

The league's top four teams advance to the Class 5A State Playoffs.


But records don't mean much in this heated rivalry.


"It is fun, especially when we've had a really tough rivalry all of our life," said James Sax, Vilonia's senior running back and a member of the 501 Football team. "Greenbrier and Vilonia always have hard-fought games.


"I've never been a smack-talker, but I know a lot of people on my team and their team that all talk smack, so I've heard it, for sure."


Neal Burcham, Greenbrier's senior quarterback, said the teams' familiarity with each other made the game more exciting.


"We've known them since we were seventh-graders," he said. "That's the fun of it, to get out and play them every year. It makes it special just playing against them for so long."


The two were AAU basketball teammates several years ago, so they know and respect each other's individual abilities as well.


"James is definitely a good guy and a guy I like to hang out with every once in awhile when it's not football season," Burcham said. "He's just a great guy and a great running back, and he's been doing good this year. We've had trouble with him ever since seventh grade. He's been their focus point every time."


Sax said of Burcham, the highly touted player who last summer was named MVP of ESPN's Elite 11 Quarterback Camp: "Neal's been a really good friend of mine, and he's had a spectacular year."


Needing a win to reach the playoffs last year, Greenbrier prevailed over the Eagles, 33-14. The Panthers notched their second straight nine-win season, reaching the Class 5A state quarterfinals a year after going to the semis.


Greenbrier had won a total of just three games in the previous three seasons.


Vilonia finished 7-4 last year, falling at Batesville in the first round of the playoffs.


Besides the records, geography also adds to the series. Burcham said after traveling all over the state to play, both teams look forward to the Faulkner County date.


"Even when it's away, it feels like it's home," he said. "The atmosphere is what makes it special."
Sax called it "definitely the most packed game of the year."


"Everybody's there," he said. "It's a great feeling, the closest for a high school student to be in a college game because everybody's out to support you, and you feel good. There's an adrenaline rush, trying to make something happen, especially against your rival. You want to show them up."


While Vilonia had the edge for several years in this series, Greenbrier has made great strides recently. But the rivalry extends to the junior high teams. Sax and Burcham, though, couldn't agree on their record against each other.


"In junior high we beat them our eighth grade year, and they beat us in ninth and we haven't beaten them since," Sax said.


Added Burcham: "I don't know if they beat us in eighth grade — I don't think we've ever lost to them."


The schools bonded during the offseason when Greenbrier students and adults helped with the cleanup following the tornado that hit Vilonia in April. Sax said that experience would make this game even more special.


"They helped us out a lot, came to our school and presented us with a check for a good sum," he said. "But we still want to beat them."


Burcham said with Greenwood visiting Greenbrier this week and the attention of the state on that game, the Panthers would be aware of a possible letdown against their rival next week.


The Eagles, meanwhile, are embracing their possible spoiler role.


"A win would definitely cover some of the pain," Sax said.