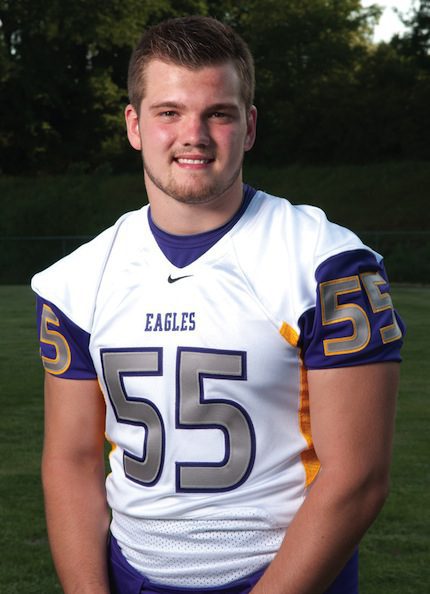 04 Sep 2013

Graves aims 'to be remembered'

by Levi Gilbert


Mayflower's Jordan Graves is the type of person whose adversities have never been too big for him — he's always been bigger than his adversities.

Graves was nominated by Coach Jed Davis and selected for this year's 501 Football Team.


"Jordan is one of the hardest workers on the team, and everyone respects him," Davis said in his nomination. "He is constantly encouraging his teammates, especially the younger guys. He helps head up our student section for basketball games. He loves everything about being a student at Mayflower High School."


Graves — a senior offensive lineman and linebacker — has fought hard to be a Mayflower Eagle.


"My freshman year going into my sophomore year, my house was foreclosed. There was a chance I wouldn't get to stay and play for Mayflower," Graves said. "Luckily my sister lived in Mayflower, too. She really didn't have room for me, but she took me in. For about three or four months, I lived in a spare room where they kept all their extra stuff. It was hard, really hard. I had to walk to practices and to school.


"I was kind of stranded. I didn't live with my mom, but she made the sacrifice in order to keep me here to play football. My sophomore year, I got voted captain. It was exciting. It felt good to know that the struggles, everything I went through in that year, paid off."


His hard work and persistence didn't go unnoticed by Davis.


"Jordan has had every reason to turn out bad," Davis said. "Despite all of this, he is someone that leads his team, does the right thing and is someone you would want your daughter to date."


Graves is one of several returning starters on an Eagle squad that went 6-6 last year, racking up several offensive records on the way to a playoff berth and first-round win. Graves and the Eagles are believing for even bigger things this fall.


"We had the best offense in the state last year in 3A, and no one really saw it coming," Graves said. "In 2008 we made a deep run in the playoffs. We had a lot of good guys and all-state players, but after that we lost them all, and it just kind of went down a little. My whole life in Mayflower football, starting with seventh grade, Coach Davis has been telling my group that if we can stay together then our senior year we will be a great team. Since the seventh grade, we've lost only one player. We've all stuck together. In junior high, this same group went undefeated.


"We're really looking forward to this season. We have a lot of good things happening. We've got four all-conference linemen coming back, a great quarterback and great receivers. Our offense was on fire last year, almost unstoppable. But what we lacked was a solid defense."
Graves will be a big part of solidifying Mayflower's defense from his linebacker position.

"He is very aggressive from snap to whistle, and then he is the first to help up an opponent," Davis said. "He's exactly what you want in your players. I expect him to lead our team in tackles and anchor one of the best offensive lines in the state."

The Eagles tied for third in the 2-3A in 2012. To move up this year, they'll have to take Barton, Harding Academy and Riverview head on.

"Those are the three teams that beat us last year in conference," Graves said. "I feel like they underestimate us a little bit. Our stats didn't say much to them. Stats or not, they got the victory. They were games that were a battle of offenses. Barton and Harding always have good offenses.

"They will be a challenge. If we say we're as good as we are, those are the teams where we have to show it. Barton and Harding are state champion teams. Riverivew, I just want to beat the mess out of them, just for the fun of it."

Graves looks to put up an all-state performance this fall, and one of his other personal goals has already been checked off — making the 501 Football Team.

"This right here has always been kind of a personal goal for me," he said. "Ever since the 501 Football Team was started a few years ago, I've really hoped I would make it. My thing is that I just want to be remembered. I have a couple guys that were ahead of me in school that I still think about being really good football players and having good character. I want to be one of those guys that kids in seventh grade right now are looking up to."

In addition to being talented on the field, Graves is maybe even more talented off the field, carrying a 3.5 GPA and having the talents to be a one-man band, if needed.

"I'm a musician. I started a youth band at my church, Lifeline Church in Mayflower, about five years ago. Now I play on Sunday morning for the adult services. I can play guitar, bass, drums, piano and do vocals."

Graves has poured himself into Mayflower and the 501, and the relationship has been mutual.

"People are nice here," Graves said. "It's a very loving area. I've been to bigger cities, but nothing compares to this."