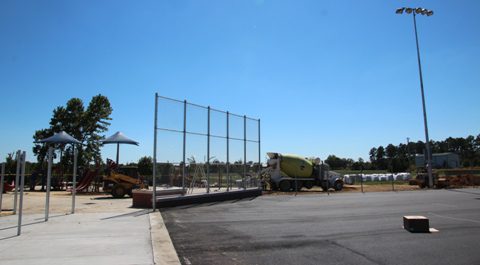 01 Oct

Grand opening Oct. 22 at Conway Braves Field

by Sonja J. Keith


Work is nearing completion and grand opening festivities are being planned at the Conway Braves Field at Curtis Walker Park.

The grand opening game is 6 p.m. Wednesday, Oct. 22.


Conway Alderman David Grimes and Jeff Matthews have led the efforts to establish the park. "It's like a dream come true," Grimes said of the grand opening. "It's going to be a big night."


Grimes said about 40 players participated in the spring but the number has grown as word has spread about the Braves program. He anticipates 50 players to participate in the opening game. "The more the merrier."


On Oct. 22, Renee Stone will sing the national anthem and members of the University of Central Arkansas Baseball Team will serve as the buddies for the Braves players.


Each of the players will receive a special souvenir from the night – a game used ball.


Matthews will serve as the emcee at the game, with every player's name announced as they come to bat.


The Braves Field project includes parking lot repair and overlay, sidewalks, an inclusive playground area for kids with special needs, bleachers, field construction, covers for spectator seating and landscaping.


In addition to the new field, other improvements have taken place at Curtis Walker Park. The renovation of Peyton Hillis Football Field has included lighting, scoreboard, concrete seating and improvements to the press box.


The city had already completed a new concession/bathroom building at the park. "Basically, it is going to be like a brand new park when it is all done," Grimes said, adding that the city is going to spend $1.2 million to complete the improvements.


Nearly $300,000 in cash and in-kind services have been donated for the new baseball field. "This is the amount to be applied toward the $1.2 million, so the cost to the city is reduced by the amount we have raised," Grimes said. "We are still collecting donations to complete some extras on the field."


Grand Slam sponsors donating $20,000 each for the field include American Management Corporation, Centennial Bank, Caldwell Toyota Scion, Conway Corporation, the Kiwanis Club of Conway and the Conway Advertising and Promotion Commission.


Grimes said organizers are inviting the community to attend the opening game. "We would like for the community to come out and support these kids and show them how special they are."


A full season of Braves Baseball, run by the Conway Parks and Recreation Department, is planned in the spring.