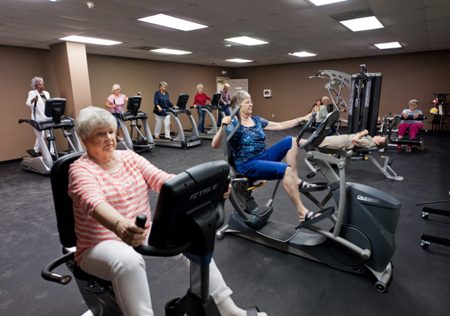 11 Aug 2014

Grand opening festivities planned for new Conway senior center

Posted at 10:31 AMh

in

News

Special events are in the works to celebrate the new Conway Senior Wellness and Activity Center.

"Our goal is to help seniors remain active and independent while enhancing their quality of life," said executive director Debra Robinson. "Our new center will help us further our goal by offering more programs to more seniors."


The community will have an opportunity to see the new facility at a special grand opening celebration 2 p.m. Thursday, Sept. 4, at 705 Siebenmorgen Road.


An open house is also planned 5 to 7 p.m. that day for tours and refreshments.


In addition, a special dance to celebrate the new center and the program's 40th anniversary will be held 6:30 to 8:30 p.m. Friday, Sept. 5.


A new center would never have been possible without the tremendous support of the community, according to Robinson. The program has received donations from approximately 400 individuals, corporations and foundations.


The John and Ola Hawks Family Foundation made a significant gift toward the center, which will now bear the name The Ola and John Hawks Center.


Jim Hawks, administrator for the foundation, said his dad, John, had a big heart for Faulkner County, where he was born and raised and where he returned to. Hawks gave of his time and resources to help where he could, working with 10-12 organizations in the area, according to his son.


"He was true to Faulkner County," Jim Hawks said, adding that his mother, Ola, has also been active in community service.


"It is an honor for the center to bear their names," he said. "The senior center is important to us and should be to everyone. That population is growing and there was a definite need for a new center. We're thankful we could help."


A $2 million campaign was undertaken to make a new center a reality.


"Without the early support from the John and Ola Hawks Family Foundation, contributions from the Nabholz families in honor of their late aunt Monica Strack, Conway Corporation, the City of Conway Community Development Block Grant and First Security Bank, we would not have tackled this daunting task," Robinson said.


"Likewise, without the leadership of Linda Linn and Lori Melton, we would never have achieved this dream. Working with them has been a truly enjoyable experience."


Arkansas General Improvement funds allocated by state Reps. Stephen Magie, David Meeks and Stephen Meeks, and state Sens. Jason Rapert, Eddie Joe Williams and David Sanders made the kitchen renovation at the new center possible.


A phonathon held in October also made a significant impact. Caldwell Toyota, Crain Buick GMC, Honda World and Smith Ford all donated $50 for every car sold during the previous month, and presented these funds at the phonathon.


"A special thanks, too, to always supportive Dixie Café manager Rick Battisto for serving food to all of the telethon workers," Robinson said. "Our thanks to Virco Manufacturing for a generous donation of some very needed furnishings and Zellner's Appliance & TV for helping to furnish the media room.


"And finally, our gratitude to Tim Morris for the countless hours of his own time he has given patiently painting the beautiful mural that welcomes everyone into our lobby."


Robinson also recognized other businesses, many that supported not only the new building project but services as well: Arvest Bank, Centennial Bank, Summit (now Bank of the Ozarks), Acxiom, Southwestern Energy, Klaasmeyer Construction Company, Baker Eye Institute, BHP Billiton, Walmart, Heritage Living Center and Salem Place Nursing and Rehabilitation Center.


"We want to thank our wonderful board of directors and all who have helped to make our program what it is today!"


Most activities and services at the center are targeted to promote exercise, good nutrition and social interaction – qualities that help seniors stay happy and healthy. The new center will create an atmosphere for seniors to form new special interests and expand on existing ones while spending time with friends and making new ones.


Last year, the Conway center provided services to more than 1,800 seniors, which represents about 11 percent of the 16,000 senior adults living in Faulkner County.


For more information on the center, contact Robinson at 501.327.2895 or [email protected].