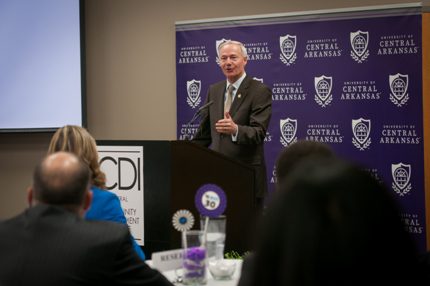 08 Aug 2016

Governor opens CDI at UCA

Posted at 12:35 PMh

in

News

Elected officials, development professionals and non-profit leaders convened at the University of Central Arkansas recently to participate in the Community Development Institute (CDI) on the campus. This is the 30th annual CDI and to commemorate three decades of educating community leaders, Gov. Asa Hutchinson opened the session with special remarks.


"I look out here and I see people who are engaged in economic development every day at the state level but also those from small communities across Arkansas," Hutchinson said. "It really shows the interest and the strength of economic development and how important it is to our communities.


"I've never been more optimistic about the direction of Arkansas. You are the reason it is happening, so I'm here to applaud you."


Shelley Mehl, associate vice president for Outreach and Community Engagement, said, "We are proud of the long history of CDI and its impact in our state and region. CDI strengthens our division's efforts to offer knowledge, expertise and research to communities looking to improve community and economic development. With leadership from the CDI staff and advisory board, we will continue that support into the future."


CDI participants progress through the professional development program in class cohorts by attending one week of training each year for three years. Participants attend innovative class simulations, instructor-led presentations, community tours and participate in group discussions and case studies.


Jack Bell, chief of staff, City of Conway; Gloria Cheshier, executive director of Arkansas Community Foundation/Faulkner County; Jennifer Welter, executive director of Community Action Program for Central Arkansas (CAPCA); and Michael Yoder, associate professor, University of Central Arkansas, completed the Year 1 Class of the CDI.


Local community leaders completing Year 2 in 2016 were Kelly Lawrence, city clerk for the City of Vilonia; Amanda Norwood, clerk for the City of Vilonia; John Nabholz of Nabholz Construction; and Kim Williams, executive director for the Conway Downtown Partnership. Shelby Fiegel, project coordinator, UCA Division of Outreach and Community Engagement, completed Year 3. Randy Holland, Mayor of Mayflower, completed his advanced year.


The Community Development Institute established in 1987 at the University of Central Arkansas, trains community and economic development professionals from Arkansas and the mid-south. CDI is part of UCA's Division of Outreach and Community Engagement and helps UCA fulfill its mission of lifelong learning and public service.