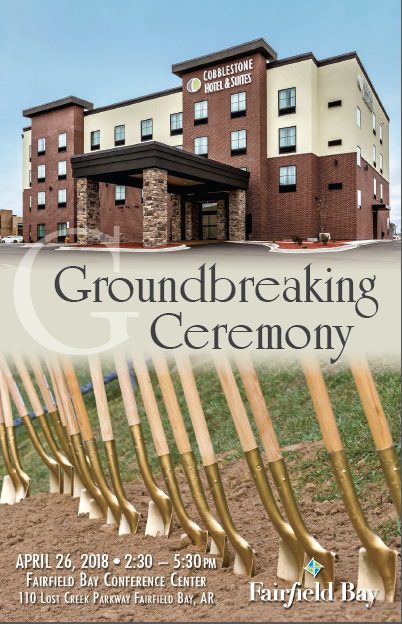 21 Apr 2018

Gov. Hutchinson to speak at Fairfield Bay ceremony

Posted at 3:05 PMh

in

News

Fairfield Bay will host a groundbreaking ceremony at 2:30 p.m. Thursday, April 26, complete with a full afternoon of celebration with city partners BD Alliance, DMC International and Cobblestone Hotels.


The event begins at the Fairfield Bay Conference Center (100 Lost Creek Parkway) with Gov. Asa Hutchinson and dignitaries speaking at 4 p.m. The groundbreaking ceremony is planned at 4:30 p.m.


The new, 63-room, four-story Cobblestone Hotel is the first hotel for the city and the first Cobblestone Hotel in Arkansas. It is expected to bring $1 million into the local economy annually.


The hotel is designed around small town Main Street charm, featuring state of the art technology, whether staying for business or vacation.

Signature amenities include high-speed Internet access, complimentary hot breakfast, evening bar, convenience store, fitness centers, business centers and more. It will host a restaurant, a spa and is a pet-friendly hotel as well. The opening is planned for the Fall 2018.


The hotel will be located next to the Fairfield Bay Conference and Visitor Center and the mall area. Construction will be by BriMark Buliders of Neenah, Wis., and will be operated by WHG Professional Hospitality Management.


"This is a proud, proud day in Fairfield Bay's history – a milestone and a launch for the community," said Mayor Paul Wellenberger. "A hotel in the Bay is a catalyst for us, leading the community to a higher level and allowing us to continue to exceed the prosperity we've been experiencing. Our partners in this project have a faithful courage and steadfast trust in our growing community and in turn, we are even more inspired at our potential. I am honored to have them on our team… when you're the first, that takes a bit of courage and is really something special!"


The hotel groundbreaking is a great acknowledgement of the many community achievements that it took to get to this moment, according to Wellenberger. "We look back over the last eight years, and can see the progression of literally building blocks that had to be in place to reach this milestone in Fairfield Bay's history… Fairfield Bay's future, really. The stars never looked brighter and we're hitching our wagon to one of them."


Wellenberger is expecting other new businesses to follow and anticipates a boost to the existing businesses in town.


Fairfield Bay is experiencing a period of economic strength and stability. Sales tax revenue continues to climb, home sales are high and in 2017, new home starts were the highest in 17 years. The addition of a new hotel, new tiny homes and the beautiful Osage Point luxury townhouse development will more fully position the Bay as a destination ready to welcome and take advantage of tourism opportunities, as well as local and regional travelers.