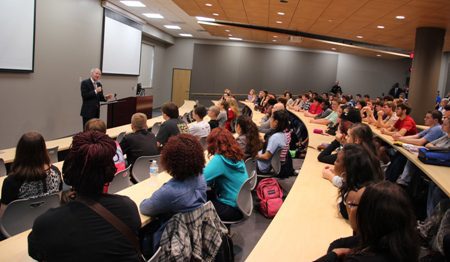 11 May 2015

Gov. Hutchinson promotes computer coding courses

Posted at 2:15 PMh

in

News

by Sonja J. Keith


Gov. Asa Hutchinson spoke Monday morning with students at Conway and Mayflower high schools, encouraging them to take advantage of computer science courses.

The governor plans to travel to several Arkansas high schools throughout May to encourage students to sign up computer science classes, some newly offered, for the upcoming 2015-2016 school year.


"Conway Public Schools in proud to support the governor in his mission to promote computer science in Arkansas schools," said Dr. Greg Murry, superintendent of the Conway School District.


Before a standing-room only crowd in a lecture hall at high school, Murry also shared information about the current course offerings available to Conway students. "At Conway High School, we already have 33 students who have enrolled in our AP Computer Science class for next year," he said, adding that the district has courses for programming, web technology, computer business applications and computer engineering. "Our students, in fact, are meeting the challenge of technology head on. They want to be leaders and we are certainly proud to equip them to do so."


The district has also increased its technology capabilities most recently through Partnership for Assessment of Readiness for College and Careers (PARCC) exams and by hosting its second Google summit, which provided information to parents and teachers.


In introducing the governor, Murry said that Hutchinson campaigned on a commitment to improve the opportunities that students have related to computer programming. "He successfully led a bipartisan group to pass legislation during the recently concluded session that would support an increase in programming classes in all high schools in our state. It is obvious that his heart is to provide great opportunities for all students in the growing field of computer programming."


After he was welcomed with a standing ovation, Hutchinson recalled being at Conway High School last year during his campaign for governor. "I'm glad to be back."
The governor explained that he had already made visits to schools in Northwest Arkansas and more were planned to promote computer programming classes. "I'm going to all different kinds of schools, different sizes of schools, getting a flavor for the students and their interest in this," he said, adding that he is trying to draw attention to computer science courses that will be available.

In particular, the governor expressed interest in computer coding, "the language of the computers."

When he asked for a show of hands among the Conway students who had learned computer coding, the number was "very impressive" to the governor. Most said they had acquired the skill in class at Conway High.

The governor also asked for a show of hands among students who had no interest in taking a computer coding class. Of those who raised their hands, the governor said there were even more who raised their hands at some of the other schools he had visited.

Hutchinson shared information on his background, his interest in computer coding and the reasons why he feels students should consider the field, including job potential.

"Right now there are about 1 million jobs that will go unfilled in the computer science field unless we educate a larger number of young people with computer programming capabilities. There are tremendous job opportunities whenever you learn computer coding skills and these are pretty good paying jobs."

Hutchinson said he met recently with the CEO of Acxiom, who shared that graduates with computer coding skills have job opportunities. "If we don't fill those positions, we're going to have a hard time keeping those industries here that rely on computer programmers but we're also going to have a difficult time attracting more industry that needs those coders."

The governor applauded state legislators for supporting the computer education initiative, in particular state Sen. Jason Rapert and state Reps. Stephen Meeks and Doug House who were in attendance.

Hutchinson campaigned during his run for the governor's office to bring computer coding to every Arkansas high school. "Conway has led and you already have that but to put it in every school and to increase the participation of students but my idea was meaningless unless they passed the law. They passed the law and added to it and really put Arkansas on the forefront of computer science education in this nation."

The legislation will go into effect next year.

Students were also shown a promotional video featuring leaders in the technology field who encouraged others to learn computer coding. (For more information, visit code.org.) A brief question and answer session followed.

"Arkansas likes to be on the national stage. We like to lead. We've got great opportunities to do that," Hutchinson said of the computer coding emphasis.