27 May 2020

#Godgetstheglory: Runyon thankful for hospital, doctors

by John Patton

Conway radio personality Jay (JR) Runyon is showing his appreciation for health care providers by helping lead Park and Pray, a community support event for Conway hospitals caring for COVID-19 patients.

For Runyon, it is more than a show of support during a time of crisis; it is a way of saying thanks to the physicians and staff at Conway Regional who saved his life.

Runyon hosts an early morning radio show for Y107 and is known as JR by most of Conway. He rarely thought about health care until late November 2019 when everything changed.

Most of the cars had cleared the parking lot at John McConnell Stadium as JR wrapped up his radio coverage of a Wampus Cat win in the first round of the high school football playoffs. Carrying his broadcast equipment from the press box to his car was a routine task that he had completed thousands of times during his 40-year broadcasting career. This time it took him 40 minutes to reach his car.

"I had a heavy feeling in my chest. I was exhausted. It was a stressful week and I thought I had just hit the wall," recalled Runyon. "I sat in my car for about 30 minutes with the air conditioner on. The doctors say that is probably as close as I came to a heart attack."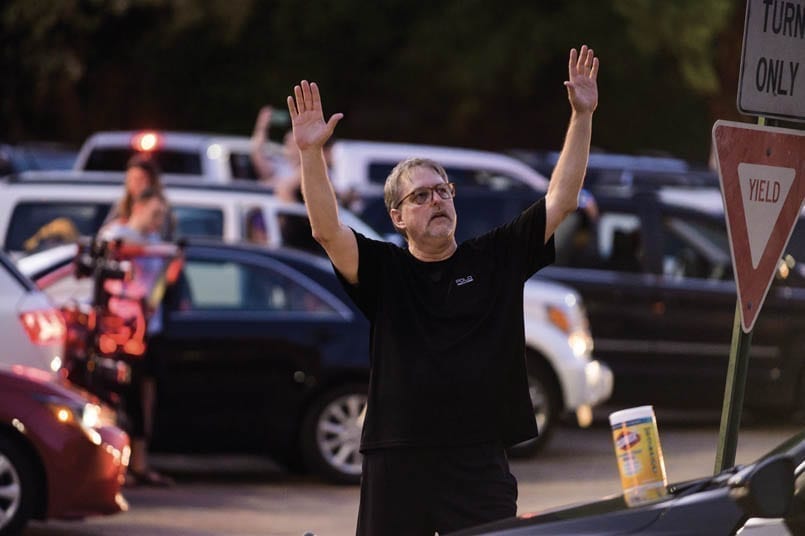 As the weekend progressed, JR felt better and had begun to attribute the experience as a bad day. But his chest began hurting again on Tuesday, so Runyon set up a visit with Craig Cummins, MD, his family medicine specialist at Banister-Lieblong Clinic. Cummins had diagnosed Runyon with diabetes eight years earlier.
Cummins ordered an EKG and a chest X-ray at the clinic. The results came back negative. "He said your EKG and your X-ray look fine but there is nothing else about this that I like," Runyon recalled. "Dr. Cummins asked me if I had a cardiologist and I said my wife (DeEnna) went to Dr. Don Steely for a stress test a couple of months ago. He called Dr. Steely and said 'you are not having a heart attack right now, so you are fine to drive over to Conway Regional; they are going to admit you.'"
The plan was to do an arteriogram and possibly put in a stent. An arteriogram uses contrast material, or dye, and X-rays to produce an image that shows the flow of blood through the arteries and detects blockages.
JR hesitated. "I tried to talk my way out of it," he said. "I had a remote to do. Dr. Cummins said 'no, you are going.' I had never had heart issues. I didn't know what they were talking about. I had been rather uncomfortable for a while, but I passed it off as signs of things that were not true. I should have paid attention earlier."
After the arteriogram, Steely decided that Runyon would need much more than a stent to treat his heart condition. "The next thing I knew, I was being prepped for triple bypass heart surgery the next day," said Runyon. The surgery was performed at Conway Regional by Dennis Woodhall, MD, a cardiothoracic surgeon. "He had a great bedside manner, super physician. He walked me through what was going to happen," recalled Runyon.
Runyon had surgery Thursday morning and helped run the second round Wampus Cat playoff game for Y107 on Friday night remotely from his hospital bed "much to the chagrin of my doctors, parents and family." By Christmas Eve, Runyon was back on the air live.
"There were more surgeries afterward. Because of my diabetes, the incision did not heal properly. I lost 45 to 50 pounds while I was recovering," he said. "I wouldn't recommend it for weight loss."
One of Runyon's favorite memories of his treatment during the hospital stay was the sugar-free Jello and the Diet Dr. Pepper. "One of my favorite treats is frozen sugar-free Jello. The nurses began putting it in the freezer for me," said Runyon. "It›s one of those little touches that made me feel like I was their only concern."
After completing the second phase of cardiac rehabilitation in March, he remains exuberant about his experience at the hospital. "From the time I walked in the door and said 'I'm here to be admitted' until today, the staff, from the doctors to the nurses, nurse practitioners, aides, to the rehab folks to everybody, has been absolutely fantastic," he said, adding: "Jimmie and Allison in Cardiac Rehab were fabulous. The care received in the CVICU was incredible. I made several trips back to the hospital just to say thank you because of people that I became friends with, people who were involved with saving my life. Dr. Cummins is at the top of the list. The test may have said things were OK, but he knew it was not OK, and he was right."
A family practice doctor with 31 years in practice, including 26 in Conway, Cummins recalled, "His EKG was normal, but his story just didn't add up." Cummins was not surprised that Runyon was having difficulty carrying his radio equipment from the press box until he learned that "he took the elevator." He also learned that Runyon had several risk factors for heart disease, including diabetes and weight gain. "It really wasn't that much of a stretch that he was in cardiac distress."
#Godgetstheglory
The story could have ended very differently. "I had 95 percent blockage in what they call 'the widow maker artery.' If I had had a heart attack in the press box that night, I wouldn't have made it. I know God isn't done with me yet."
Runyon isn't shy about his faith.
As JR was recovering from multiple surgeries, DeEnna was journaling his recovery on Facebook under #Godgetstheglory. "God's the reason the doctors knew what to do, why Dr. Cummins said, 'I don't like this.' He's the reason that Dr. Steely read the arteriogram and said, 'This is not right.' From the nurses who took care of me before and after surgery, God put those people in the right place at the right time to do the right thing."
A current member of Woodland Heights Baptist Church, he said, "I grew up in church. My faith is very important to me. I don't hide it, but I don't try to force it on anyone either, I just try to live it."
Ticket to talk
Runyon began his radio career in Oklahoma City in 1980, after winning a radio promotion for tickets to a car show.
"When I went to pick them up, the receptionist asked, 'You've got a nice voice, have you ever thought about being in radio?' I was working on my car that day. I was wearing dirty clothes and a ball cap and I was in one of the nicest office buildings in Oklahoma City," he recalled. "I was in high school and wasn't thinking about a career in radio." While he was filling out an application, the program director came downstairs and took Runyon into the studio to make a tape. "An hour and a half later, I walked out of there with a job and I've been doing it ever since. I found out I could play music, talk to girls and get a paycheck. I was in."
Community connections
He moved to Arkansas 18 years ago to begin work for Larry Crain and Crain Media Group. Crain owns radio stations in Searcy, Batesville and Conway. During a ribbon cutting the Conway Area Chamber of Commerce arranged for Y107, he was photographed together with DeEnna for the first time. "It was several years before we got to know each other and then we got married in 2012," he recalled. DeEnna Runyon works for Simmons Bank as a vice president market retail manager. Two of their three children have graduated through Conway Public Schools, and JR's daughter Hailey Rose Runyon is heard at the end of his show each day – a tradition going back 20-plus years.
Inspiration for Park and Pray began when JR and Tonya Coats began discussing community support for health care providers during the COVID-19 pandemic. "We saw the people singing in Italy and it inspired us to do something here," said Runyon.
"I got an email Sunday morning from Tina Prout about using a sound system for a Park and Pray that night and knew it was a great opportunity. Things took off from there! I stood up the first night and said I am here because I personally know the quality of care at Conway Regional. I feel for those patients who don't have access to family because of COVID-19, especially in the critical care situations. It's another opportunity to say thank you."
He added, "I appreciate smaller market radio because we can be local, and I know the people who listen to the radio station. You can have a bigger impact. I'm grateful for the community that loves me and my family and showed support when I needed it. I'm grateful we had Conway Regional which was connected to my doctor who was connected to Dr. Steely. I'm forever grateful for all those connections."
Life-changing takeaway
Dr. Cummins added, "Jay's a super nice guy with a great family. I think he has a new purpose in life and is doing what he is supposed to be doing."
Runyon said, "My biggest focus now is that I worked too much. While I still work hard, I want to work smarter not harder and put more value and emphasis on time with my family and the things that really matter."
His response when he tells people about his health care experience: "If you don't know where you're going in case something happens, let's get that right. Listen to the doctors; they do know what they are talking about. Listen to your body. It was by the grace of God that I didn't have a heart attack in that press box. I was packing up the equipment and I was the last one to leave. If I had a heart attack that Friday night, I wouldn't be here now."
He has also pledged to take better care of himself.
"DeEnna has my promise to take better care of myself. DeE was right there with me all the way. She's been a trooper. I can't imagine going through this journey without her and without my family and some amazing friends like Eric King, Jeff Wicks, Mike Binko and many others who stepped up when needed. My co-workers and staff at the radio station including my boss, Larry Crain, were right there supporting and praying for me all the way and all that means the world to me."