22 Dec

'God had me in his hands': Smith recounts fearful half marathon collapse

by Mark Oliver


An opportunity for a man to cross an item off his bucket list turned into a fight for his life.


Joey Smith has sports in his veins. In high school, he played football, basketball and tennis. As an adult, the 38-year-old director of IT project management at Windstream enjoys biking and running, among other outdoor activities.

"I've always had a love for physical activity," Smith said. "Last year, a friend got me into cycling, and I really fell in love with it. From there, I started doing triathlons. There's such a freedom about running and cycling that I've always felt. It satisfied a competitive itch I haven't had since high school."


While training for a triathlon, Smith was invited by a friend to run in the Soaring Wings Half Marathon in Conway. His answer was a no-brainer.


"Running a half marathon has always been a bucket list item of mine," Smith said. "Although I had never run anything like it before, I was accustomed to running as part of my triathlons. I was excited for the opportunity to try something new."


Embracing the challenge, Smith soon began his training.


"Before this summer, I had never ran more than five miles in my entire life," Smith said. "Three weeks before the race, a friend and I ran from the soccer fields at Centennial Park to my house near the peach orchard on Round Mountain, which is roughly the same distance as the half marathon. We ran without stopping, nutrition nor hydration on quite a bit of hills. That gave me the confidence that I could handle that type of distance."


On Oct. 29, a confident Smith arrived for check-in with a clear target goal in mind.


"I've always been aggressive in goal setting and pushing my body to be better in any endeavor," Smith said. "Although it was my first half marathon, I set an aggressive goal to finish in 1 hour 45 minutes. I knew it would be a stretch, but I thought it was a goal that I could complete."


Smith prepared for the run with an adequate breakfast and a warm-up jog. As the half marathon began, he felt positive about his early progress.


"When we began, everything felt good," Smith said. "I remember not being nervous because I had practiced well and felt good about the distance. I felt like the pace I had set was right for me. For several miles, I was so focused on making my time that I only stopped once to hydrate. All that mattered was staying on pace."


Mile after mile, as Smith pushed himself toward his target time, his body began to push back.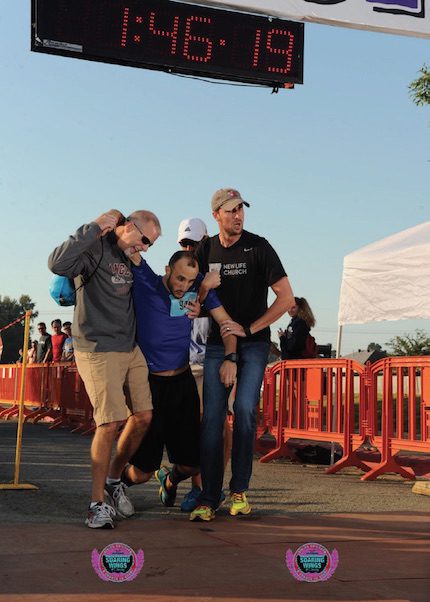 "Over the last two miles of the run, I started to feel my heart rate elevating," Smith said. "I kept telling myself that I was doing great and was on track to meet my target pace. I couldn't give up when I was so close to the finish. However, the more I pushed myself, the shorter my breathing got, and I could feel myself beginning to struggle."

Entering the final mile, other runners began to take notice of Smith's fading energy and became concerned.

"I remember the guy next to me telling me that I needed to breathe," Smith said. "He told me that if I kept breathing the way I was, I was going to kill myself."

With family and friends eagerly waiting at the finish line, Smith's body had enough.

"I barely remember turning into the McGee Center to finish," Smith said. "My breathing changed, and I started to fade in and out of consciousness. At the finish line, I turned into the marathon chute instead of the half marathon chute. When I ducked under the rope to switch over, that's when I hit the ground."

With the help of a friend and another spectator, a dazed Smith was carried across the finish line at 1:46:16. As his family watched from the sidelines, it quickly became apparent that something was wrong.

"I don't remember crossing the finish line," Smith said. "I had blacked out. I've been told that I had what appeared to be a seizure and was foaming at the mouth. My best friend drug me toward an ambulance, and I've been told that the paramedics had difficulty finding my pulse."

Unable to stabilize Smith inside the ambulance, paramedics rushed the runner to the hospital for emergency treatment. There, he was diagnosed with rhabdomyolysis, a breakdown of muscle tissue that leads to the release of muscle fiber contents into the bloodstream, caused by his extreme exertion. For nine days, Smith would remain hospitalized as the toxins were flushed from his system.

From his hospital bed, Smith detailed his experience in a post on his Facebook page. As others learned of Smith's story, the runner received immense support from his community.

"I have been extremely humbled by the outpouring of love and care displayed from our church family, friends and witnesses to the event," Smith said. "Over those nine days, I don't remember having even 15 minutes alone. My room was always full of people. My small group at New Life Church even met in my hospital room so I wouldn't miss it. Even when I was released, there were people waiting for us at home to help us with our bags."

Smith was released from the hospital Nov. 7. Weeks later, he's still fighting to recover from that day's events.

"This has been a physical and emotional healing process for the whole family," Smith said. "After being released from the hospital, I tried going back to work because I desired a sense of normalcy. However, I would experience bad headaches and would be completely wiped out by the early afternoon. I had no energy, and my brain was in a fog. I still don't feel like myself."

Smith says his experience has taught him many lessons.

"God had me in his hands that morning, and He continues to teach me through this trying event," Smith said. "I came away from this with the conclusion that any personal goal I'm striving for that doesn't glorify God is meaningless in the end. At the end of the day, I would have gotten the same medal no matter if I finished at my goal time or an hour later. What bothers me the most about the entire ordeal was that my two youngest kids, my wife (Ashley) and my family were right there screaming for me, and I was unresponsive. It kills me to know that I put myself in a situation where my kids had to see their dad like that."

Following his recovery, Smith vows to return to the sports he loves.

"My goal is to move again and run again," Smith said. "I just ordered a new GPS watch that monitors my heart rate, and I'm getting lessons on how to train properly while analyzing my heart rate. Typically, when I exercise, I have a good feel for when my body tells me to slow down or pull back. I'm also very stubborn and have a high pain threshold, so I can push myself pretty hard. It's important to stop and listen to the messages your body is sending. There's no pride lost in that."