16 Nov 2020

Go!bbler Turkey Trot goes virtual, adds participant prizes

Posted at 5:44 PMh

in

News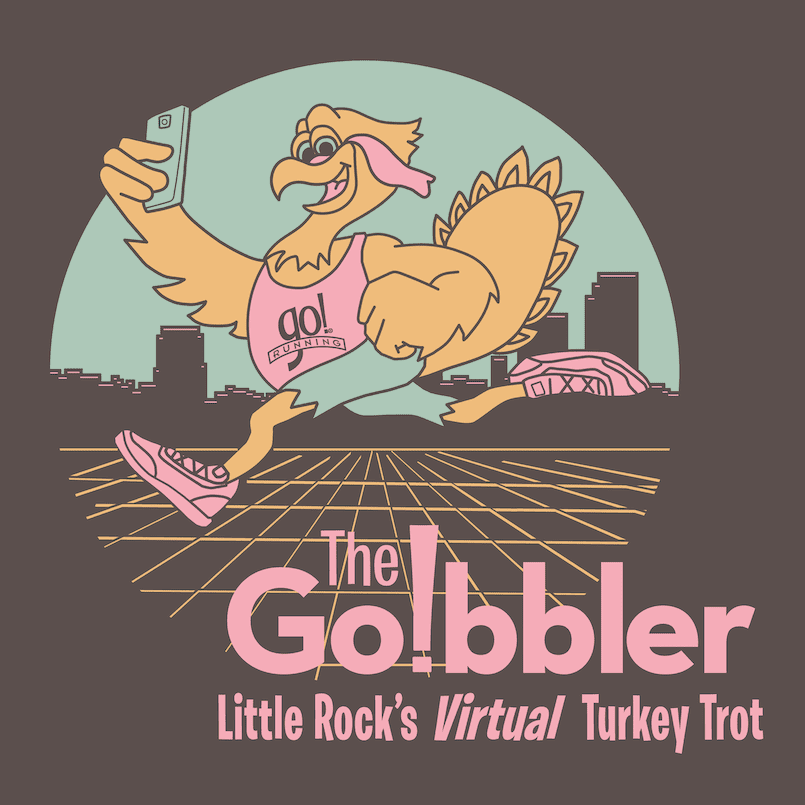 For 10 years, Go! Running has hosted the Go!bbler Turkey Trot. The 3, 4, or 6.5-mile family fun run and walk has grown into the undisputed way to begin Thanksgiving Day for thousands of families.
With that in mind, and the continued COVID-19 threat for large groups, 2020's event is transitioning to a food drive and virtual run only.
"This run is a tradition in our community, but the most important part of it is collecting donated food and cash for the Arkansas Foodbank," Gary Taylor, owner Go! Running, said. "We love bringing everyone together, to gather and be grateful. But even though 2020 will be different, our spirit for the event is high and I know our community has the heart to continue their support – and still get out on Thanksgiving morning to celebrate."
This free virtual family run only has one entry fee: canned goods and non-perishable food items or money to benefit the Arkansas Foodbank. Last year alone, this event attracted more than 2,200 people and collected enough food and donations to feed over 15,000 meals.
But 2020 Will Be Different
The challenges of coping with COVID-19 have affected us all in major ways. Especially those who faced food insecurity even before the pandemic. In Arkansas, the food insecurity rate has jumped from 17% to over 23%. For children, the rate has jumped from 23% to 33% due to school closures, virtual learning, and caregivers' loss of income from furloughs and layoffs. While many are missing their friends and normal activities, think of those who are more concerned with putting food on their table. "Let's keep the momentum of this Thanksgiving tradition by donating food or funds again through Go!bbler Turkey Trot to benefit food insecurity in our communities," Taylor added.
How It Works
From 10am Saturday, November 21st thru 3pm Wednesday, November 25th Go!bbler organizers are asking the community at large and virtual run participants to drop off items for the Foodbank into bins in front of Go! Running or at partner locations – the Little Rock Athletic Club, Little Rock Racquet Club, and three UAMS Orthopedic locations.
Sign up for the run – it's free! Then on Thanksgiving morning get out on your own, with friends, or with family, dressed up and enjoy the morning in the spirit of The Go!bbler of past years!
This year the course is up to you. Go your own distance and do your own thing. But remember to take a fun picture of your or your group, then share them on Go! Running's Facebook page or your own Instagram with hashtag #gobblerturkeytrot.
Take a Picture to Win!
And There Are Big Prizes… Register online for free. Then, post a turkey trot pic to Go! Running's FB page or a picture to your own Instagram feed with hashtag #gobblerturkeytrot.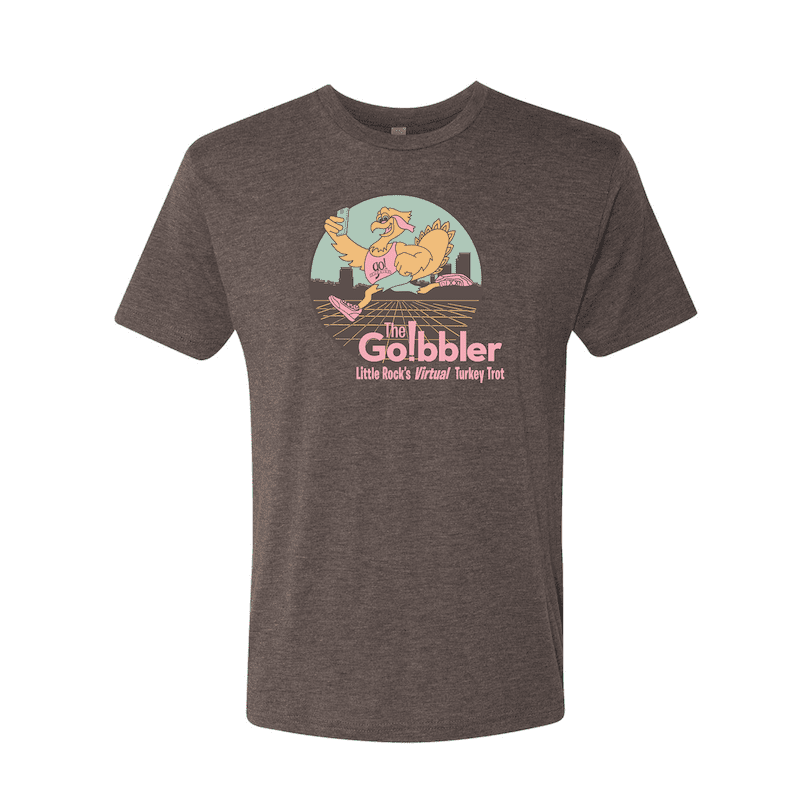 Run registration is free and a must, with the picture post, to ensure participants are entered for a chance to win a fabulous big prize. Deadline for entering is Wednesday, November 25, 6 PM. Winners will be announced Thanksgiving evening.
Prizes offered include: Garmin FR245 watch – value $300; Domestic Domestic gift card – value $500; The Athletic Club membership; 6 months Tipton and Hurst gift; Eggshells Kitchen Co. gift card – value $50; Ozark Outdoor Supply gift cards – value $100; Go! Running gift cards; And more….but you must be registered to win!!
Information Learn more about the Go!bbler Turkey Trot and register for free at: https://gorunning.com/gobbler-turkey-trot/
Food drop-off locations: Go! Running (in the Heights) 1819 N. Grant St., Little Rock
UAMS (3 locations) • 600 Autumn Rd., Little Rock • 2 Shackleford Rd., Little Rock • 10815 Colonel Glenn Rd., Little Rock
The Little Rock Athletic Club 4610 Sam Peck Rd., Little Rock
The Little Rock Racquet Club 1 Huntington Rd., Little Rock
About Arkansas FoodbankArkansas Foodbank, the largest hunger relief organization in Arkansas, offers innovative programming focused on serving hungry Arkansans with healthy and nutritious food. Programs like Food For Kids, Food For Families and Food For Seniors provide food and other resources for more than 400 food pantries, schools, shelters, senior centers and other agencies that directly aid hungry Arkansans. For information on how you can fight hunger, visit arkansasfoodbank.org. The Foodbank is a proud member of Feeding America and the Arkansas Hunger Relief Alliance.