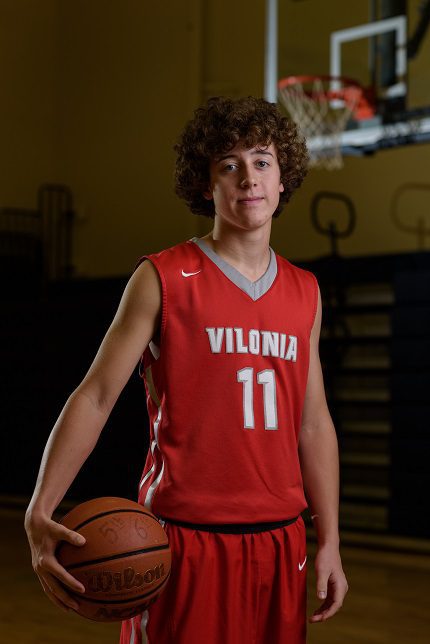 06 Dec

Goals drive Neely, Eagles

by Mark Oliver


Throughout his basketball career, Vilonia senior Hunter Neely has made many memories on the basketball court. However, one moment stands out above the rest — when he and his team overcame the odds to reach basketball greatness.


"Two years ago, our AAU team, the Central Arkansas Warriors, played a team called the Spartans in the championship game of a tournament," Neely said. "At halftime, we were down by 17 points and thought that it was over. However, in the second half, we battled all the way back to beat them. That was a proud moment for me and my team."


Each time he takes the court for Vilonia High School, Neely uses that moment as a reminder of what is possible when his team plays together and as a goal for he and his team to reach the promised land again.


"The attitude of our team right now is very good," Neely said. "Everyone understands the sacrifices we need to make to be successful, and everyone is on the same page. When something doesn't go my way on the floor, I know that the seniors have my back."


Neely was selected to this year's 501 Basketball Team — 37 players representing the best the 501 has to offer both on and off the court. The team is sponsored by Conway Ortho and Sports Medicine, Conway Regional Health System and First Security Bank. Neely was nominated by her head coach, Tim Goers.


"Hunter's ball handling, shooting and play-making are some of his best qualities on the court," Goers wrote in his nomination. "He knows how to fight through adversity and has a very consistent work ethic. He's a gym rat who is always around to help others improve."


Off to a hot start this season, the Eagles (5-2) have approached the new year with a focus on consistency and strategic goal setting.


"This season, we know what we're capable of, and I don't think that there's a team in the state that we can't beat when we're playing at our best," Neely said. "Our team goal this season is to consistently strive toward playing at our best. We want to make it to the state tournament and maybe even win the whole thing. We're just trying to work as hard as we can each game."


As the season goes on, Neely hopes to not only improve as a player, but as a leader on the floor, too.


"This year, I want to be a better leader for the team," Neely said. "Each day after practice, my teammates will come up to me and ask me to work on things with them, and we'll do it for as long as they want to. I just want to be there for my teammates to help them grow as players and as individuals. When I'm on the floor, I'm vocal with my team and my teammates because I care about them. I know that we have a goal in mind of what we want to accomplish, and I'm trying to get us there."


Neely draws basketball inspiration from his biggest role models — his parents.


"My dad is in the military and gets deployed often," Neely said. "Right now, he's deployed in Africa. Growing up, he always told me about his days playing basketball, and it's what got me interested in playing, too. My mom is going through chemotherapy. I feed off them both.

They're both huge inspirations for me to help give me and my siblings the best life possible."


Off the court, Neely assists special needs basketball teams through his AAU team, umpires for a local tee-ball program and referees pee wee basketball at Vilonia. After high school, Neely plans to pursue nursing at the University of Central Arkansas.


"I've never been the strongest, fastest or most athletic player on the floor, but I've always tried to play smarter than my competition," Neely said. "I love playing basketball and hope to continue doing it again after high school."


Vilonia plays host to Maumelle at 7:30 p.m. Friday.