27 Oct 2021

Girl and her Godfather work to help less fortunate at Christmas

By Becky Bell

Nine years ago, Jamey Hornes got an incredible gift for Christmas.

Against the odds, she got a father.

Her biological father was killed before her birth, but she has never known life without a father because she's had her godfather, Eric Lamb.

"She has been a big inspiration," Lamb said. "Every time she sees me, she is going to give me a hug and love. Just to see improvement in her makes me proud, and the idea that she wants me to be in her life as a fill-in father means so much."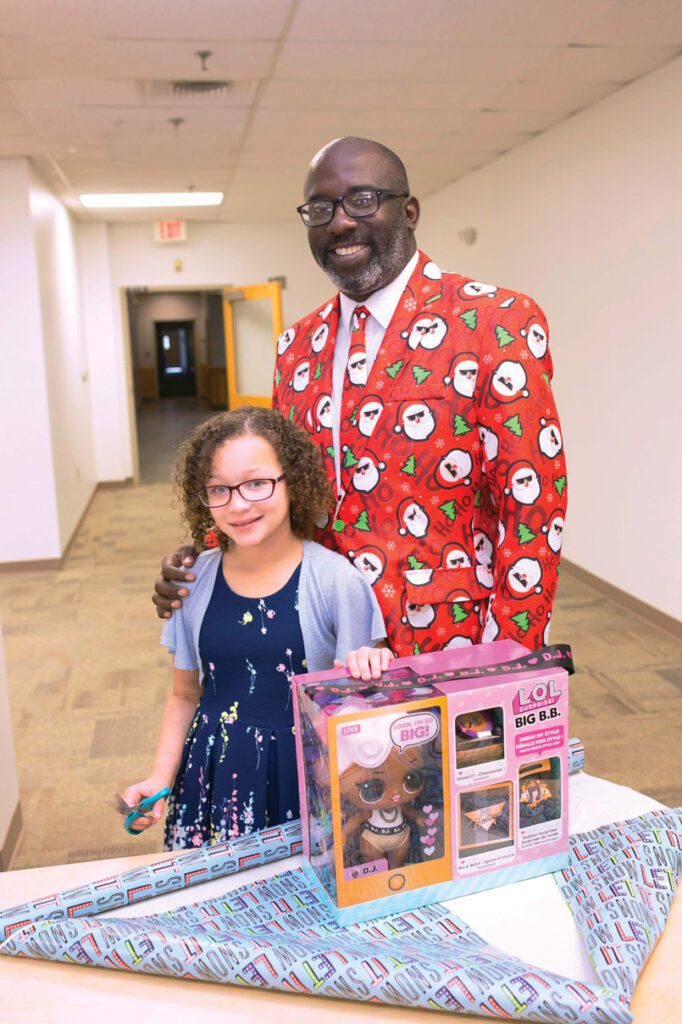 Lamb got to know Jamey and her story because her grandmother, Kristina Cook, and her mother, Sumer Cook, attend church with him. About seven years ago, he spearheaded a program called Eric's Christmas Miracles, which now helps 500 families.
For the last four years, Jamey, now a fourth-grader at Williams Magnet Elementary in Little Rock, has worked with her godfather throughout the project. She helps him set up the workshop where all the gifts are stored and sorted by family, she helps wrap gifts for the children, and she helps Lamb deliver presents. His youngest daughter, Eryana, 14, also helps, and the girls share a bond because of the special deliveries they get to make.
"We go with my grandmother to help wrap presents, and I like helping because I think I'm a grownup," Jamey said. "I like it because I like hanging out with Eric. He's my Eric and I love him."
Jamey lives in an apartment with her two cats and her dog, Sunshine. She enjoys her Barbies and the gifts she receives at Christmas. However, she can tell during the delivery process that families they visit cannot afford the type of Christmas she is used to.
"It makes me feel good helping other kids and it's just fun going around everywhere and delivering presents,'' Jamey said. "They are really excited and some of them jump around because of the stuff we give. They jump a lot."
Lamb said some of the homes they deliver gifts to should have been condemned. Many of the families they visit are grandparents raising their grandchildren, he said.
Jamey's mother said it is hard to imagine their lives without Lamb in them. "I think we are fortunate to have him in our lives," Cook said. "There are lots of kids without daddies who don't have a father figure, but she was able to have someone as great as Eric to be her father figure." Jamey wholeheartedly agrees.
"I've got a famous daddy," she said.
A spirit of giving has been implanted in Jamey now, and she worries about those who do not have the things they need, Cook said.
Jamey said she loves her own Christmas celebration when she and her grandmother make cookies and prepare for her godfather to come over. "My mom sometimes puts makeup on me, and I will help her with the tree, and Eric will come over and we will do pictures," she said.
"She normally makes me something or gives me something," Lamb said. "Once she made me a black Santa ornament. They call me Black Santa and I thought that was real sweet."