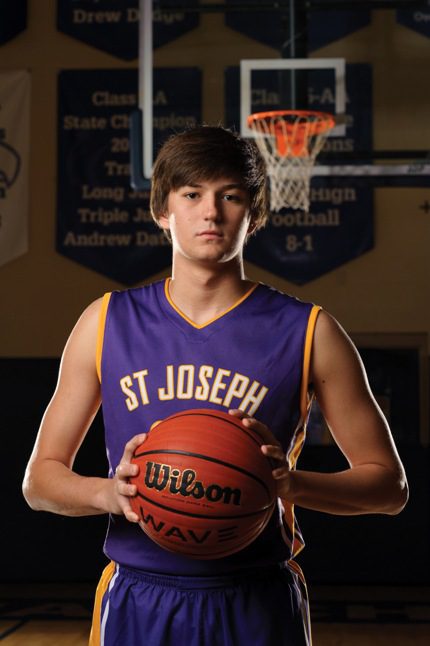 07 Jan 2015

Genuine Schrekenhofer leads Bulldogs

by Levi Gilbert


This week is a great week to be a basketball fan in Conway as cross-town rivals St. Joseph and Conway Christian will face off in conference play.

"No matter where it's at, it's always intense — always crazy," said Dylan Schrekenhofer, a senior post player for St. Joseph. "All week everyone's looking forward to it and talking about it. It's the type of game you always want to play in."


Schrekenhofer was selected to this year's 501 Basketball Team — 24 players representing the best the 501 has to offer both on and off the court. Schrekenhofer was nominated by St. Joseph's head coach, Brent Bruich.


"His enthusiasm, his positive attitude and his love for the game are contagious to everyone he is around," Bruich wrote in his nomination. "His leadership is his best quality off the court. He has great character and is respected by everybody — teammates, classmates and the student body."


Schrekenhofer — or Schrek, as he's affectionately known by his teammates — is primed for a special finish to his high school basketball career. He's been playing basketball since the second grade, and he and the four other seniors on the team have all been together since kindergarten at St. Joseph. The group won back-to-back district championships in junior high (eighth and ninth grade) and won district and region last season, finishing in the 2A state quarterfinals with a loss to Junction City.


"I'm focusing on leading everyone, being a good role model and showing people how we should play the game," Schrekenhofer said. "I just hope we can get back to the state tournament and compete. We're focusing on getting the younger ones prepared and getting them used to the speed of the game. Once you're in state, anything can happen."


Schrekenhofer is keenly aware of his role as a leader for St. Joseph, and according to Bruich, this is the senior's greatest strength both on and off the court.


"He genuinely loves and cares for his teammates," Bruich said. "He is willing to help them out anyway he can. I'm expecting him to be a great leader for us. I'm expecting him to help make the younger players better and for him to play hard, play smart and play his heart out."


While Schrekenhofer inspires his teammates, the relationship truly is reciprocal.


"My inspiration to come out and play hard every day is my teammates," Schrekenhofer said. "You see how hard they work in practice and you just want to perform for them."


Schrekenhofer is a two-sport athlete at St. Joseph. He also plays first base for the Bulldog baseball team.


"I was the first baseman two years ago when we won state when I was a sophomore," Schrekenhofer said. "We played against Dierks. It was crazy. Everyone was excited. It was the first baseball state championship for the school."


Schrekenhofer is also a member of the National Honor Society at St. Joseph.


St. Joseph hosts Conway Christian in conference play Friday.