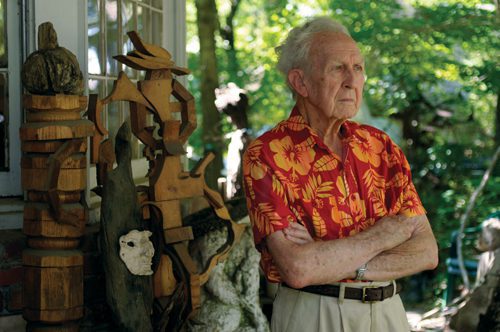 30 Oct 2010

Gene Hatfield to receive Governor's Arts Award

Posted at 1:00 PMh

in

News

Sponsored by the Arkansas Arts Council, the Governor's Arts Awards recognize outstanding contributions to the arts in Arkansas. Hatfield and other award recipients will be honored at a ceremony and luncheon at noon Wednesday, Nov. 10, at The Peabody in Little Rock.

At the luncheon, each award recipient will receive an original work of art – a wooden vessel made of native Arkansas wood, including spalted maple, crabapple, peach and walnut – created by Arkansas Artist Registry member Joe Doster of Harrison.
Hatfield is an accomplished artist who has worked in a variety of media including watercolor, oil, acrylic and sculpture. His best-known work is the transformation of the yard of his Conway home into an art environment, the result of more than 40 years of working with recycled objects.

Influenced by the surrealist artist Max Ernst, Hatfield uses discarded materials and found objects, transforming them into figures, often with humorous results. He mixes and arranges them, creating three-dimensional collages. Hatfield also works in the tradition of artists whose use of discarded materials cast light on the wastefulness of contemporary society.

The grounds of his home on Donaghey Avenue in Conway remain full of witty, engaging forms and figures, frequently visited by students, not only in art classes but also writing classes. His long tenure as an art teacher at the University of Central Arkansas in Conway is an important contribution to Arkansas's art culture. Hatfield taught drawing, painting, sculpture, crafts and design, as well as art history and art appreciation.

Since his retirement in 1985, he has continued to work as an artist. He paints regularly with a class at UCA, exhibits his work and develops sculpture from the variety of materials he continues to collect. He has donated a large body of his own work and works by other artists to the UCA Foundation.

His work is also represented in public and private collections in Le Touquet, France; Eastbourne, England; Washington, D.C.; Little Rock and Conway. Hatfield has also published three novels: "Enola Victrola: An Arkansas Adventure" (self-published in 1987 and later republished as "Naked Lies Enola" by Colonial Press); "The Devil's Toupee: An Arkansas Misadventure" (published in 1989); and "Chocolate Chicanery" (published in 1993).
Luncheon tickets are $35 and can be purchased by contacting Cheri Leffew at [email protected] or by calling 501.324.9766.