19 Aug 2020

Gather around the table

by Julianne Milner

I grew up in the kitchen. My mama was a wonderful cook. I have so many memories of talking and laughing, side by side with her in her red and white kitchen.

One that always comes to mind is walking in the front door after school to see her and my dad through the window to the back porch, sitting beside a pile of fresh corn on the cob that was taller than me! They were laughing and shucking corn as fast as they could go. The next afternoon it might be purple hull peas or new potatoes or okra. So many delicious things came out of their big garden each summer.

We had an open campus at my junior high and high school back then. My friends would fight over who could go home with me for lunch each day because they knew it would be a big spread of wonderful vegetables along with fried chicken, meat loaf or round steak and gravy. Mama was always happy that I brought extras home with me.

Home cooking is a catalyst that brings people together. It is very important to me that we don't lose the daily ritual of sitting down around the table together (without the intrusion of television and cell phones), of having the opportunity to interact, to share experiences and concerns, and to listen to others. You can't replace cooking something in your kitchen, filling the house with the wonderful aromas, where you share a dish, taking a helping and passing the platter to your loved one, neighbor, friend.

Another of the special pleasures of cooking at home is exchanging recipes. Ask my friends how excited I get when they say "my Aunt Ella makes the best chocolate cake you'll ever put in your mouth" and they share the recipe with me. That connects me with their Aunt Ella. There's something communal about sharing recipes, about passing tastes and flavors from friend to friend and from generation to generation. Our food tells us where we came from and who we have become.

When choosing a favorite recipe to share with you this month, I knew the perfect one. Comforting Chicken Pot Pie. Every well-versed Southerner has a favorite Chicken Pot Pie recipe, but this one may just become your NEW FAVORITE! Tender bites of chicken, potatoes, green peas, carrots and onions in a velvety rich broth, seasoned with fresh parsley, thyme and sage topped with a tender, flaky crust. It's a HUG in a crock!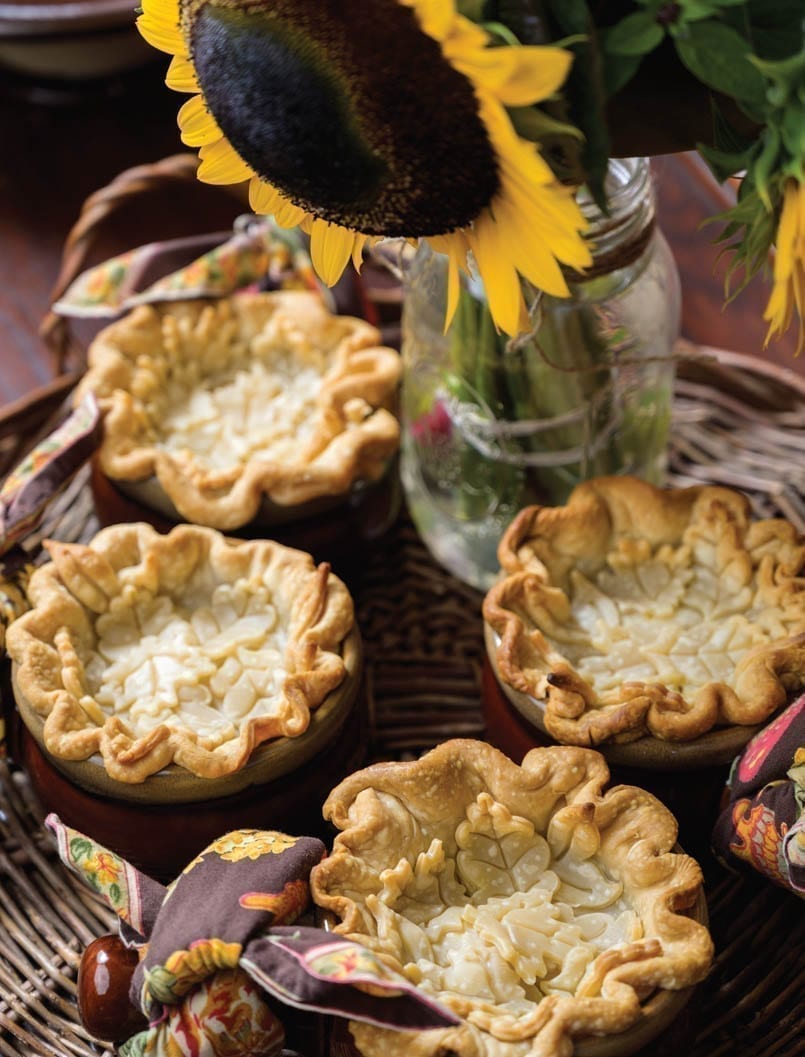 You can use your favorite pie crust recipe for this. When I'm in a hurry, I use the Pillsbury all-ready crust that is ready to roll out. Whichever you choose, you will love this recipe. I like serving this in individual ramekins or handled crocks. I think it's nice to have your own personal serving to break through the crust on, letting the steam escape with the aromas of the fresh herbs.
Use your extra pie crust scraps to decorate your little pot pies. A piece of crusty French bread and a green salad complete this meal perfectly. Gather around your table and reconnect with loved ones over this cozy, soul-warming pot pie. Follow me on Instagram @juliannessoutherntable to see other southern favorites from my recipe book as well as decorating ideas and tips.
Comforting Chicken Pot Pie
Filling:
2 carrots cut into 1/2 inch pieces (about 1 cup)
2 stalks of celery cut into 1/2 inch pieces (about 1 cup)
1 medium yellow onion, chopped into small pieces
4 tablespoons unsalted butter
1/2 cup frozen green peas
3 tablespoons snipped fresh parsley
1 teaspoon snipped fresh thyme or 1/2 teaspoon dried thyme, crushed (I recommend using fresh herbs-it makes all the difference)
1/2 teaspoon salt
1/2 teaspoon fresh ground black pepper
32 ounces chicken stock or broth
1 bay leaf
3 large boneless, skinless chicken breasts
1 1/2 cups chopped, peeled and cubed Yukon gold potatoes
For sauce:
5 tablespoons unsalted butter
2/3 cup all-purpose flour
2 teaspoons fresh sage or 1 teaspoon dried, crushed (I recommend using fresh)
1/2 teaspoon dry mustard
1 1/2 cups whole milk
2 tablespoons dry sherry (optional)
For filling, in a large skillet cook carrots, celery and onion in hot butter until tender. Stir in peas, parsley, thyme and salt and pepper. Cook and stir 1 minute more. Remove from heat and set aside. In a large saucepan, bring stock and bay leaf to boiling; add chicken. Simmer, covered, 15 minutes or until chicken is no longer pink, adding potatoes in the last 7 minutes. Strain stock and reserve; discard bay leaf. Set chicken and potatoes aside; when cool, chop chicken into bite-size pieces.
For sauce, in the same large saucepan over medium heat, melt butter. Sift in the flour, sage and mustard to combine; cook 1 minute until lightly browned. Whisk in reserved stock and milk. Cook and stir until thickened and bubbly. Remove from heat and stir in sherry if using. Stir in reserved vegetables, chicken and potatoes. Cover and keep warm. Spray your crocks with non-stick cooking spray and fill with mixture. Cut your pastry about two inches bigger around than the top of the crock. Cover and pinch the pastry around the edges. With a knife, cut a few slits in the pastry to allow steam to escape. Place your pastry cutouts as you like on the crust. Place crocks on a cookie sheet and bake at 400 degrees for 30-45 minutes. Cover with foil midway through if the crust starts getting too brown.
Makes 4-6 servings.
If you don't have individual crocks, you can roll your pastry over a 9-inch pie plate that has been sprayed with cooking spray, fill with chicken mixture, then cover with another pastry sheet. Make a few cuts in the pastry top. Trim edges and flute as desired. Top with pastry decorations and bake at 400 degrees 30-45 minutes. Enjoy!