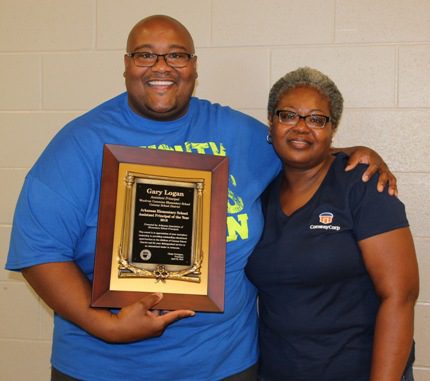 25 Apr 2016

Gary Logan recognized as state's Assistant Principal of the Year

Posted at 1:11 PMh

in

News

by Sonja J. Keith


Conway elementary school assistant principal Gary Logan was recognized Friday as the state's Assistant Principal of the Year.


Logan was surprised with the Arkansas Association of Elementary School Principals (AAESP) Assistant Principal of the Year Award during an assembly at Woodrow Cummins Elementary School.


Logan is known for his singing and dancing, which he greets students with every day during morning drop-off. 501 LIFE featured Logan in its August "Back to school" edition and during its 501 LIFE segment on KARK Channel 4. The TV station did a follow-up story, which went viral and attracted national attention.


Woodrow Cummins Elementary School Principal Dayna Lewis thanked the students for helping her surprise Logan at Friday's assembly. "I need to tell you a little secret," she said. "Because I love Mr. Logan with all my heart, I nominated him for a big award. I nominated him to be the Assistant Principal of the whole state. Guess what? He was selected!"


The announcement was met with cheers and applause by students, teachers, friends and family of Logan and other dignitaries.

"How many of you enjoy getting out of the car in the morning and listening to Mr. Logan greet you and hear him sing in the cafeteria?" Conway School District Superintendent Dr. Greg Murry asked the students. "You know why you like him so much, because he is a nice man and he is going to take care of you. He's recognized by the state of Arkansas as the best assistant principal in the state of Arkansas this year. We are really proud of Mr. Logan."

Murry describes Logan as an "exceptionally hard worker" who shows up early and stays until the job is completed. "His personality is such that people are genuinely drawn to his leadership," Murry said. "Many are aware of his 'viral' performances on social media where he was taped during the morning drop-off of students. That video shows the real Gary. He is energetic and enthusiastic about making sure that our students' day begins with an uplifting and positive greeting. Gary is also not afraid to hold staff members accountable. It's not just music and dance – it is curriculum and instruction that will lead to student achievement. Gary can sing. Gary can dance. But more importantly, Gary can lead."

Dr. Richard Abernathy, AAEA executive director, presented the award to Logan.

The award is given each year to an Arkansas elementary level assistant principal who is respected by students, colleagues, parents and the community at-large; shows a strong commitment to his/her professional growth; shows strong educational leadership by setting high expectations for school staff and students; and maintains an orderly, purposeful learning environment.

Logan is in his second year as assistant principal at Woodrow Cummins Elementary. He previously served as assistant principal at Mayflower High School for a year and as a third grade teacher.

When asked about his accomplishments, Logan said, "One of my most significant accomplishments has been finding a way to help students start their day in a positive way. Our morning music routine in the cafeteria and at the car line is what has defined my impact on children for the last two years. So many times our kids get out of the car in a bad mood or they don't want to part ways with mom; but when they pull up to school and hear their favorite song and administrators dancing in the parking lot, it changes their whole outlook.

"I hope to leave a legacy of joy and excitement about school."