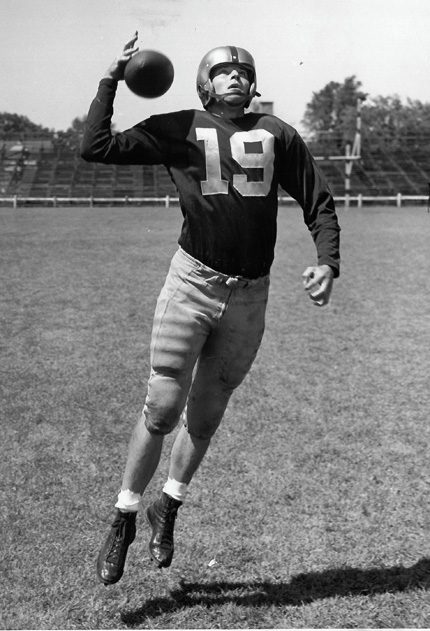 16 Sep

Garland County: Alton 'Al' Baldwin

by Bob Reising


Two years before his death in 1994, Alton "Al" Baldwin reminded a reporter of the motto that had always guided his actions: "When the going gets tough, the tough get going."

His life, every day of his 71 years, convincingly illustrates that he was not mouthing an untruth. The Hot Springs native, who went on to claim All-Southwest Conference, All-American, All-American Football Conference (AAFC), National Football League (NFL) and Canadian Football League (CFL) honors, launched his athletic career in junior high school with a playground accident that left him semi-paralyzed and confined to a couch for almost a year. At Hot Springs High, he underwent five operations on his left foot because of osteomyelitis, a disability that later disqualified him for military service but, thanks to a special iron brace fastened to his cleats, allowed him to star in two sports, track as well as football.


At Fayetteville in the fall of 1943, early in a tryout for the University of Arkansas varsity football team, finding his nose splattered across his face, he reluctantly raced to the school infirmary to have it set and in a flash returned to the playing field with a question for his coaches, "What do you want me to do now?" Not surprisingly, he later learned, that question, at that moment, earned him a spot on the squad.


Al was as fast as he was tough and talented. More than once he was clocked at 9.3 seconds in the 100-yard dash, and in the 1945 Southwest Conference Track and Field Meet in Dallas, he resembled a one-man squad, appearing in six events, including the 100- and 200-yard dashes, the low hurdles, the broad jump, the shot put and the mile relay. While he earned three letters in varsity track and field, he garnered none in varsity baseball, postponing his play until summers, when he performed so well as an outfielder and hitter in amateur competition that the St. Louis Cardinals signed him to a Triple A contract with Houston, then a minor-league franchise. He never appeared in a professional baseball contest, however, serving, instead, as a business manager. He preferred football, in which — after four seasons of stellar play at the University — he knew he was ready to compete at the sport's major-league level.


His self-assessment proved accurate. Standing 2 inches over 6 feet and weighing more than 200 pounds, he distinguished himself in three professional leagues. For three seasons, 1947 through 1949, he played for the Buffalo Bills of the AAFC, being named All-Conference the final two. In 1950, he played both offense and defense for the Green Bay Packers in the NFL, snaring a team-best 28 receptions for 555 yards while intercepting five passes. He completed his pro play with three seasons "north of the border" as a player-coach with the Ottawa Rough Riders, who in 1951 claimed the Grey Cup, the CFL's equivalent of the Super Bowl trophy.


At age 30, he and the young lady he had married in 1947 after a 10-day courtship decided that seven seasons of visiting the metropolises of North America had earned them retirement in the quaint city they loved best. Hot Springs welcomed their full-time return, too.


An enthsiastic multi-decade salesman for the Arkansas Power and Light Company, Al also found time for refereeing high school football games, coaching Hot Springs Boys Club sports and serving on the board of directors of the Boys Club, while Joan, his wife, worked in a variety of community capacities. Always at the center of their lives, however, were their two children: Steve, a starter on Baylor's basketball team while an undergraduate and now a Hot Springs dentist, and Becky, a teacher of Gifted and Talented students in Fort Smith.


In Hot Springs, Al continued to gain honors. In 1987, he was named to the Arkansas Sports Hall of Fame. Soon thereafter, he was among the distinguished athletic figures honored in the Oaklawn Jockey Club Sports Room, and within months of his passing, his Alma Mater placed him on its All-Century Football Team.


Unquestionably, Al Baldwin will forever represent athletic excellence in Garland County and the 501.