01 Jul 2023

Gaining life

It is difficult to imagine that 28-year-old Diehlon Cates had bariatric surgery.

Cates is an avid runner who trains intensely for triathlons. As a patient care tech at Conway Regional, he is a trusted, energetic co-worker. Cates received the Be Exceptional Everyday (BEE) award in 2022 for the exceptional care he provides in the Surgery Department at Conway Regional.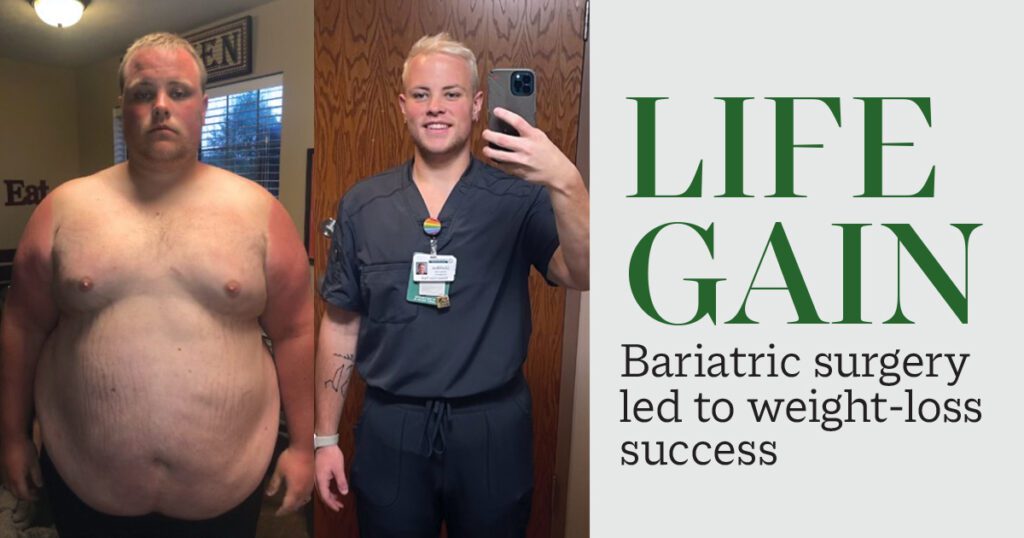 In his personal life, he helps parent five children and coaches his 12-year-old's youth baseball team.
Diehlon weighed 420 pounds in January of 2022 and struggled with his weight. A year later, Cates said weight-loss surgery changed his life; he had vertical sleeve gastrectomy surgery, also known as the gastric sleeve. "It was the best decision I ever made," he said. "I knew I had to make a change. I have five kids, and I wanted to be there for them. Now we have a happier, healthier life because I can do more."
Bariatric surgery at Conway Regional is a process that includes counseling and six months of visits with a registered dietitian before the gastric sleeve. For the surgery to be successful, patients' eating habits must change as they shift to smaller, healthier meals. The visits with the dietitians continue after surgery for another six months before "graduation," Cates said.
He also embraced the exercise part of the recovery process. "Recovery is normally four to six weeks," said Cates. "Once I got cleared for all exercise, I started hitting the gym, taking my health and fitness seriously. I started training for triathlons that summer and ran two that year. Between then and now, I have run countless races."
A year after surgery, he has lost about 200 pounds, and some former co-workers in the hospital "don't recognize me."
Cates adjusts his eating around his race training schedule.
"If it's an off time for training, I focus more on what I'm eating," he said. "I'm more lenient if I have been training hard, making sure that I am taking in a lot of protein to keep my muscle mass."
When he feels the temptation to overeat, he looks at photos from before surgery for inspiration.
Cates opted for surgery at a younger age before he began to develop chronic health issues. He said, regardless of age, "If you are struggling with your weight like I was, the first thing is to admit that you have an issue to yourself and try to find some help."
He turned to Anthony Manning, MD, who offers bariatric surgery and other procedures at Conway Regional Surgical Associates alongside Brock King, MD, and Josh Dickinson, DO. 
Manning points to Cates as "an example that it can fit in with a busy life. You can be busy and still be incredibly successful with weight loss." He added, "Diehlon is very successful because he is motivated and has worked hard. Surgery is effective, but once patients have surgery, the ball is in their court, which is why we provide extensive support and education to our patients to help with their weight-loss journey."
The Conway Regional bariatric surgery program stresses education, offering an interest seminar at the Conway Regional Health & Fitness Center on the first Monday of each month.
"The cornerstones of weight loss will always be diet and exercise," Manning said. "We ask you to get an hour of exercise every day, which can be as simple as walking. It can even be 15 minutes four times a day if it adds up to an hour."
From a dietary standpoint, Manning cautions that surgical weight-loss patients should expect "some pretty significant changes right after surgery as their stomach begins to heal, but we have a great team of dietitians to coach you.
"We don't want you to feel alone."
Of Dr. Manning, dietitians, and other support staff, Cates added, "I wouldn't be here now if it weren't for them. They gave me these tools to change my life, and it's the best thing I have ever done."