By Tanner Cangelosi
Spring is here and so is our new baby girl, ZuZu! As I prepared for this sweet baby's arrival, I quickly realized the cost of baby gifts and room décor…yikes! So, I got to work finding a way to make a spectacular room on a simple budget, and I wanted to share the results and ideas with 501 readers.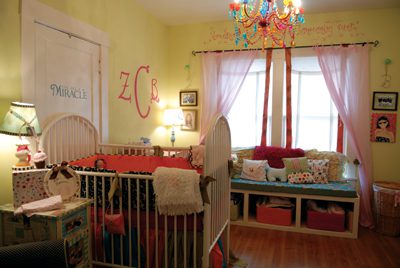 First, I found a cute old table (at the Junk Queen in Conway) to put beside my glider. With a little Mod Podge and an old grammar book, the table is now totally unique.
On top, I placed a lamp that I found at a garage sale. All it needed was some ribbon, hot glue and a necklace charm to make this a custom look.
The window seat was courtesy of my husband, a handy carpenter. I had seen a similar look in a posh furniture magazine, so I bought a cushion, some funky fabric and begged my husband to build this window seat for his baby girl . The posh version was listed for $1,000 and we completed the window seat project for about $150!
The bassinet for ZuZu was my great-grandmother's. I used some paint and ribbon to spruce it up a bit.
I found some old shelves that my mom had used in her college dorm room. A can of bright blue spray paint gave them new life in this little chickadee's room. I also found old artwork at another garage sale. With a few dabs of the paint colors used in the bedding and wall paint, this $3 purchase turned into a custom piece that is sure to make people stop and stare.
The chandelier and the bedding came from a friend in Fayetteville. I traded painting a mural for them. I know that is a strange thought, but if you have a special talent or hobby, try to barter to save some "mula."
The curtains were purchased at Pottery Barn Outlet in Memphis for a song and they were made custom by my good friend and seamstress, Katrina Ervin.
Finally, to get the most bang for your buck – PAINT, PAINT, PAINT. Whatever your theme is, try to match your wall colors to the things you already have…make it look like you planned to use the colors in your furniture. Get creative and go out on a limb….doodle on your walls! You can do it….try with the use of an overhead projector, ask a friend or hire someone to personalize your space.
My husband told me to stop while I was ahead. Needless to say, ZuZu has a very visually stimulating room – everything from flowers on the ceiling and her monogram to polka dots on the wall. I always think that paint can make a space breathtaking…for not very much money at all!