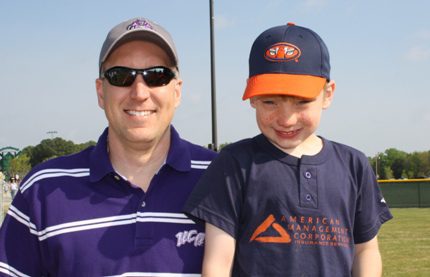 18 Sep

Fundraiser planned for Miracle League field

by Donna Lampkin Stephens


"Take Me Out to the Ball Game" will take on a new meaning Thursday, Oct. 24, at the Hole in the Wall Café in Downtown Conway.

It will be the site of a major fundraising event in the private effort to build a Miracle League baseball field in the city. The date marks Game 2 of the World Series, and the evening will honor University of Central Arkansas baseball coach Allen Gum and his Bears, who finished runner-up in the Starkville Regional of the NCAA Tournament last spring.


Ballpark food (burgers and hot dogs) will be served, co-chair (along with Jeff Matthews of B98.5) David Grimes said.


"We encourage people to wear their favorite team gear — the Bears, the Cardinals, whatever," Grimes said. "It will be a relaxed atmosphere. We'll have a silent and live auction, and all proceeds will benefit the drive to build the Miracle League field."


Tickets are $25 and may be purchased at Randy's Athletics, the Log Cabin Democrat or by calling Grimes at 501.269.0412.


Miracle League baseball allows children with disabilities to "dress in uniforms, make plays in the field and round the bases just like their mainstream peers," according to miracleleague.com.


The cause is dear to Grimes' heart. His oldest child, son John David, 11, played in the Little Rock league last spring.


"He had a great time," said Grimes, a Conway alderman. "A Miracle League field has been in the city of Conway's parks plan for a while, but it was down the road still, and so I told the mayor, 'Let me lead the effort to raise private money to build it sooner rather than later.'


"We're already working with Steve Ibbotson (Conway parks director), and everybody is on board."


The goal is to have kids playing on the field next spring.


The field will be in Curtis Walker Park, which is undergoing a total makeover, so the timing is right, Grimes said.


A Miracle League field is smaller than a typical youth baseball field, with outfield fences 100 to 120 feet from home plate and a special rubberized playing surface that is hard enough to support wheelchairs yet soft enough to accommodate falls or slides.


Grimes said the project would also include "a wonderful inclusive playground that is handicap accessible."


The total budget is nearly $600,000.


"We're going to try to do all of it privately," Grimes said. "We've gotten good feedback so far, but we could use more."


Fundraising efforts have already reached more than $200,000, he said. Already there are four Grand Slam donors ($20,000 level): Caldwell Toyota, Conway Corporation, American Management Corporation and the Kiwanis Club of Conway.


"We've got several others at smaller amounts," Grimes said. "Lots of people have contributed. We'll take any amount you want to give us."


Categories of gifts include the Single ($100); Double ($1,000); Triple ($5,000); Home Run ($10,000); and Grand Slam. All Grand Slam and Home Run donors will have their names on the field's scoreboard.


Miracle League Baseball, headquartered in Georgia, dates from 1998. Little Rock has had a field since 2006. A Northwest Arkansas league also exists. Grimes said fields were planned for Hot Springs, Jonesboro and El Dorado.


Conway is ripe to join them. The Conway Braves have existed, thanks to Drs. Bill and Kim Patterson, for several years, allowing disabled kids and adults to play the sport, but they've had to "borrow" fields at UCA and Hendrix, for example, that weren't the proper type for those with special needs.


"So we've got the kids ready to go," Grimes said. "We've had great success soliciting funds.


"It's a cause people understand and believe in. Special needs kids playing baseball — what more can you ask?"


For more information on Miracle League baseball, visit miracleleague.com or miracleleaguear.com or call Grimes at 501.269.0412.