31 Jan 2022

From Scotland to Vilonia, Chef Suzanne Campbell has a passion for the delicious

By Don Bingham

When life presents us with friends and acquaintances that are a delightful encouragement, they often come from all four corners of the globe! One such friend is Chef Suzanne Campbell, a Certified Executive Chef, with Scottish heritage and northern English roots. Suzanne grew up in the Queens Hotel, owned by her family, in the little town of St. Bees in Cumbria, England. Among her remembered and cherished dishes from the region would be: Grasmere Gingerbread, Hawkshead Wig (bun with hint of caraway), Fat Rascals (type of tea cake) and Kendall Pepper Cake! Cumberland Sausage and Black Pudding are also regulars at her table, with charcuterie being a chosen offering, long before the charcuterie board became the culinary rage.

"Cooking is an art form, a social interaction, and represents traditions painstakingly acquired," she said. "Our food history and regional cooking promotes resourcefulness and respect for our culinary heritage. We should not lose sight that our food should taste great and should be enjoyed and celebrated with friends."

And celebrate, she does! Chef Campbell has followed her husband's career in the U.S. Air Force for 40 years, and has spent much of this time stationed around the world — landing in Vilonia! For over 10 years, she has developed classes for the Pulaski Tech Culinary Arts Institute in Garde Manger, History of Food, Canning, Fermentables, and Preserving.

The Chef Campbell story does not end here! Besides winning numerous awards such as Educator of the Year and the Formica Culinary Award, her theme in life is to enjoy "food, laughter, friends, and wine!"

In her spare time, she trains horses at her owned and operated horse farm, Three Sisters Farm! Competitions too numerous to mention, a true showman in riding, and "born with a spirit for animals in her DNA" would be at the top of her business card! She has authored and illustrated two children's books on the adventures of two of her miniature horses, titled The Adventures of Belle and Nick, The Rescue Ponies: A Christmas Wish, and The Adventures of Belle and Nick, The Rescue Ponies.

And, I must also mention that she has a high level of expertise and promotion in foods that are seasonal to the regions where she has resided. As a member of the American Culinary Federation and having traveled extensively with her husband's career, she has been able to promote the "farm to table" philosophy from London to Vilonia with her vast knowledge of canning, freezing, and preserving — with blackberries being a speciality!

Her pantry remains full of jams, jellies, tomatoes, pickles, chow-chow, chutney, and local honey! Thank you Chef Campbell, for all of your delightful contributions to our community, our state, and thank you for the years of teaching and inspiring others in the world of culinary arts!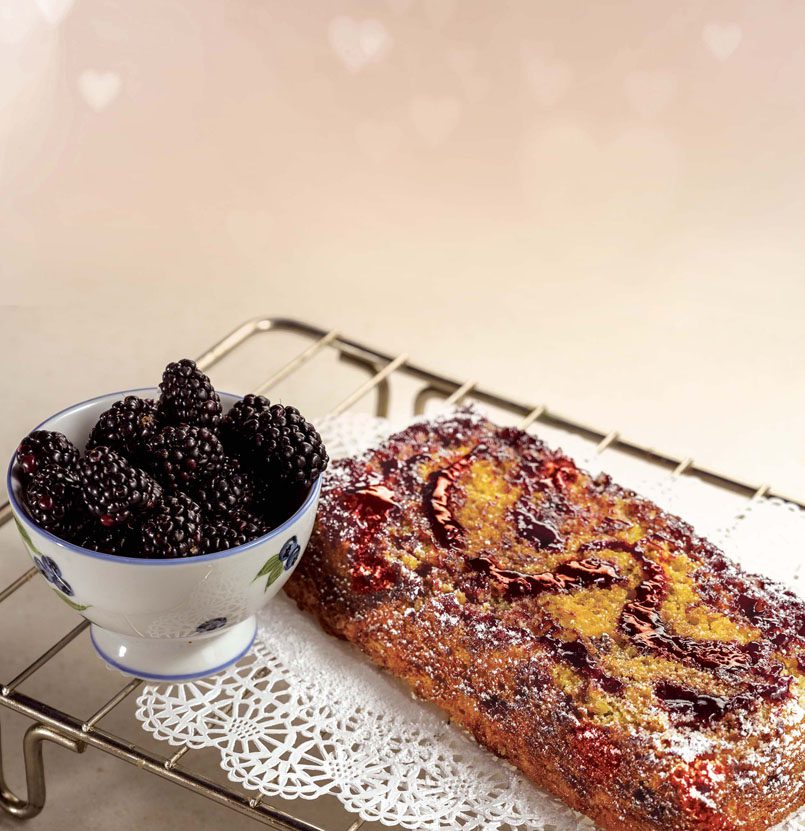 Blackberry swirl bread
6 oz butter softened
6 oz sugar
3 eggs room temperature
Grated zest of orange
6 oz self-rising flour
1 teaspoon baking powder
2 tablespoon powdered sugar
1 small jar of homemade blackberry jam (stir contents until smooth)
Preheat oven 325 F. Grease and flour bread pan.
Using an electric mixer, beat butter, sugar, eggs, and orange zest for one minute. Sift flour and baking powder into a large bowl. Fold the flour and baking powder mixture into the butter and egg mixture. Pour half into the loaf pan. Swirl some of the jam through the batter. Add remaining butter mixture, and swirl jam through remaining batter.
Bake for 30-35 minutes. When an inserted toothpick comes out clean, the bread is done. Allow the bread to cool in the pan before turning it out onto a wire cooling rack.
Once cooled, sprinkle the bread with powdered sugar.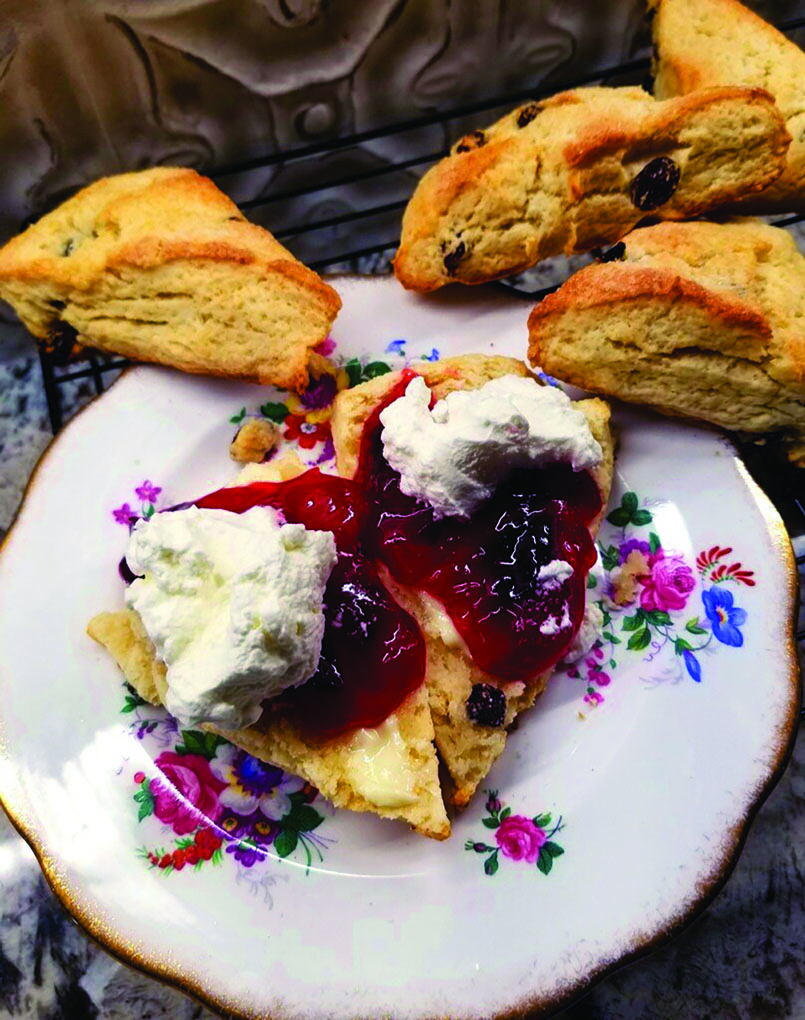 Gran's Scottish scones
2 lbs all-purpose flour
Pinch of salt
3 heaping teaspoons of baking powder
½ cup sugar
¾ cup unsalted butter
1 ½ cup milk
½ cup dried currants (optional)
Egg wash
1 egg
2 teaspoon milk
Preheat the oven to 475 F.
In a large bowl, sift flour, salt, baking powder, and ½ cup sugar. Cut the cold butter into the dry mixture until crumbly. [Many use a pastry blender to evenly distribute the butter. The pieces should be about pea sized when you are done.]
In a separate bowl, whisk the eggs and milk. Make a well in the dry mixture, and add the egg mixture. Hand mix until all ingredients are incorporated.
Empty dough onto a floured surface. With clean, dry hands, form the dough into a mound. Roll the dough so it is an inch thick. Score the top with a knife and cut into triangular wedges. Brush the top of the dough with the egg wash, and sprinkle with sugar.
Place on an ungreased sheet pan. Bake 10-13 minutes until golden brown.
Cumberland Sausage Recipe
5 lbs pork shoulder
1 lb pork fat
1 ½ oz kosher salt
¼ cup bread crumbs
3 Tbsp coarsely chopped marjoram
1 Tbsp black pepper
1 tsp white pepper
1 tsp mace
2 tsp nutmeg
½ cup ice water
2 tsp sage
Casings (available at local meat markets)
Combine all ingredients except water. Mix to distribute evenly. Refrigerate overnight. Grind the mixture through a small die into a bowl set in ice. Mix the ice water into the meat until a uniform sticky appearance is achieved. Cook a small portion of the sausage mixture and taste. Adjust the seasoning as needed. Stuff the sausage mixture into the casings and leave it in long single curled links. Saute on stovetop or roast in oven to 150 degrees F.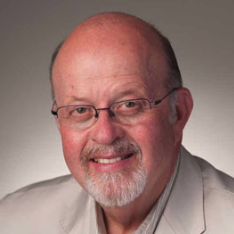 Latest posts by Don Bingham
(see all)