05 Nov 2023

From good to gourdeous

By Julianne Milner

Fall is such a cozy time of year. We focus our attention to the indoors with textured throws and rich velvet pillows on the sofas. Our candles go from cucumber and lavender to more heady scents such as pumpkin, spices, vanillas and others that bring fall to mind. We bring out the pumpkins, gourds and berry stems along with heavier fabrics in deep fall tones and those ever-loved plaids.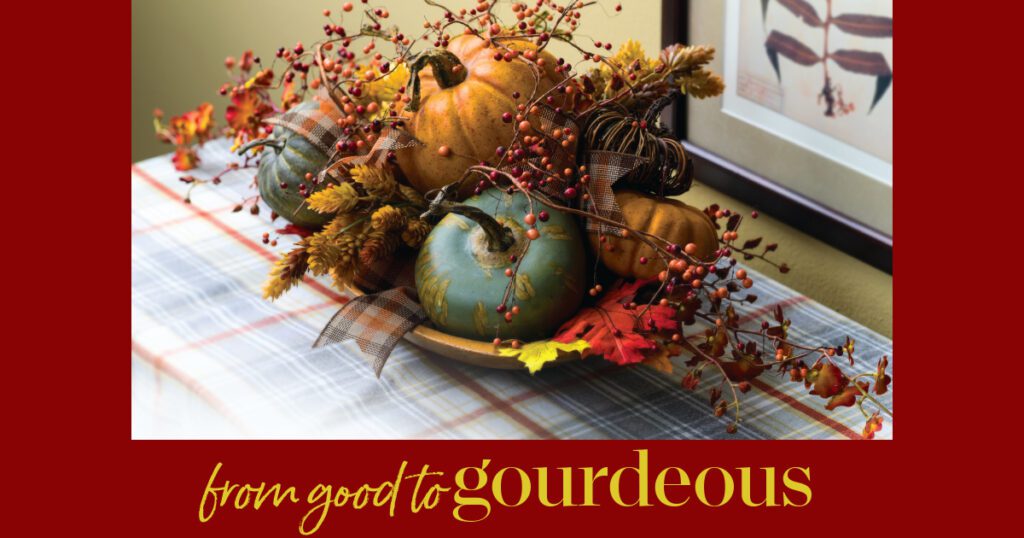 Fall is the perfect time to mix in vases, candlesticks, bookends and other accessories in copper and bronze hues that really warm up a space
A simple way to add a touch of fall to your dining table, buffet, kitchen island or coffee table is with a dough bowl. Many of you may have a dough bowl you have inherited from your mom or grandmother. If not, they are easy to find in a variety of sizes at home goods and antique stores. It only takes three easy steps to go from an empty dough bowl to a gorgeous arrangement!
Fill your dough bowl half full with dry beans. This ensures that nothing gets lost in the bottom of the bowl and gives you a level surface to work with.
This is where you add your leaves, berry stems and any stems you might want to hang down over the side of the bowl. Tuck the stems in the beans to anchor them and keep them stable.
Add the pumpkins, gourds, or any other natural elements you are using such as pinecones or acorns, and tuck ribbon in if you like.
I used artificial pumpkins and gourds in my dough bowl because real ones were not available at the time of the photo shoot. Real ones are just as easy to use and even more beautiful!
And there you have it! A fall delight to enjoy all season long.