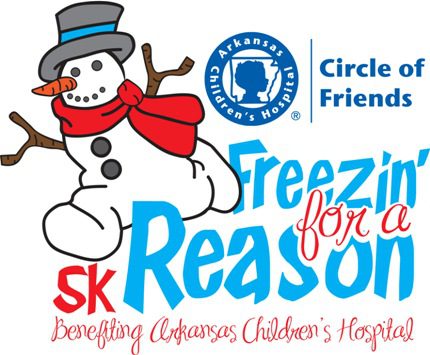 22 Jan 2014

Freezin' for a Reason to benefit Arkansas Children's Hospital

The Faulkner County Circle of Friends chapter, a group of individuals working to raise funds and awareness for Arkansas Children's Hospital, will host the second annual Freezin' for a Reason 2K Family Run, 5K and 10K on Saturday, Feb. 1, in Conway.

Nearly 4,000 have registered for the event, which organizers hope will attact 1,000.


"As we close in on the final two weeks, the festivities are coming together," said organizer Karil Greeson. "We will have some education booths from Arkansas Children's Hospital as well as bounce houses, face painting and other fun kid events. We will have food from Panera Bread, US Pizza, hot dogs and smoothies from Smoothie King."


The idea of the race came about from the chapter wanting to honor the memory of Charlotte and Stella Mulhearn, two children from Conway who received treatment at Arkansas Children's Hospital.


"I was ready to go across the country for Stella's treatment, but her best chance was at ACH," said Amanda Mulhearn, mother of Charlotte and Stella. All proceeds from Freezin' for a Reason will directly benefit Arkansas Children's Hospital.


In addition to the race, First United Methodist Church in Conway will host a Pasta Party on Friday, Jan. 31.


Sponsorships are still being accepted. The deadline to register online at freezinforareason.org is Thursday, Jan. 30. Registration will also be held at Sporty Runner on Friday, Jan. 31, and the day of the event at the event site, the University of Central Arkansas track and field complex.


This year, Circle of Friends chapters across the state hope to raise a combined $700,000 to support the hospital.


Last year there were more than 349,000 patient visits at ACH, including 13,371 from Faulkner County. For more information on Circle of Friends, please contact Stephanie Goodwin at 501.764.0333.


Circle of Friends members work to promote children's health through education, advocacy and fundraising for Arkansas Children's Hospital. There are 13 Circle of Friends chapters statewide.


Arkansas Children's Hospital is the only pediatric medical center in Arkansas and one of the largest in the United States, serving children from birth to age 21. The campus spans 28 city blocks and houses 370 beds, a staff of approximately 500 physicians, 80 residents in pediatrics and pediatric specialties and more than 4,000 employees. The private, nonprofit healthcare facility boasts an internationally renowned reputation for medical breakthroughs and intensive treatments, unique surgical procedures and forward-thinking medical research — all dedicated to fulfilling the mission of enhancing, sustaining and restoring children's health and development. For more information, visit archildrens.org.