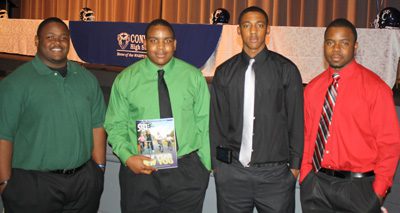 01 Feb 2012

Four Conway players sign letters of intent

by Levi Gilbert

Four members of the Conway High School Football Team signed national letters of intent on Wednesday to play college football.

A reception was held at James H. Clark Auditorium at Conway High School-West for the players.

Surrounded by family and friends, the players making commitments included wide receiver Rashad Shepherd and running back Cordarius Irby, who both signed to play for Henderson State University at Arkadelphia.

"Cordarius was a backup his junior year and really took on a big role last year as a senior," Conway head coach Clint Ashcraft said. "He was also our quarterback out of our wildcat package. He scored 19 touchdowns last year and was very valuable for us.

"Rashad is a really great story. He was a junior varsity player his sophomore and junior year and didn't have a lot of experience as far as Friday nights went. Once we hit our first conference game, he really came into his own. He had a great game against Cabot on the road, and he made big plays every week after that. Henderson coaches took note of that great second half of the season."

EJ Robinson and Marquis Rogers also committed to play for the University of Arkansas at Monticello.

"Marquis and EJ are two peas in a pod," Ashcraft said. "They've been on our defensive line for three years and really led our defense. The younger guys really looked up to them this year. They were great leaders for us as well as good football players."

With four players signing this week, Ashcraft said this class is creating a lasting legacy for Conway High football.

"All four of these guys never missed a workout or practice, they took care of business in the classroom and made good grades and they stayed out of trouble," Ashcraft said. "They did things the right way. They are all going to continue to do that and be valuable assets because of that.

"It's one of those deals that even though they won't be Wampus Cats next fall, in a way they can still help our program by going and excelling at the next level at their schools. They can show their coaches that they know how to work hard and put in the effort, and that can open doors for younger kids down the road. College coaches will know that when they get a kid from Conway, he's going to be a hard worker and a good student. I hope this trend continues."

Jeff Matthews has watched all four of these players their entire career as the play-by-play announcer for Conway Corporation's Channel 5 Sports. He, like Ashcraft, had nothing but high praise for these future college athletes.

"Cordarius continued a long tradition of being a power, between-the-tackles back," Matthews said. "CHS has had a number of backs like this over the years, but not many have combined his power and speed. He will offer Coach Maxfield a strong, hard-working back that is going to make them better. He signed a great class, and Cordarius has a chance to move the chains for the Reddies.

"Rashad became one of my favorite players to watch. He has great quickness and fantastic hands. The fact that the Reddies signed Bentonville's quarterback, who threw for over 6,000 yards in high school, shows you the commitment to throwing the football that Henderson is now going to have. Rashad has the chance to make an immediate impact on the field."

Matthews said he is excited to see Conway's fearsome defensive line duo staying together at UAM.

"Marquis and EJ together will be missed as much as any tandem on the D-line for the Wampus Cats," Matthews said. "The fact that these two have a chance to continue their careers next to one another is great for UAM. They know each other and work really well together. I won't be the least bit surprised if they have great success for four years there."

Four players signed Wednesday, but that doesn't mean they will be the only former Wampus Cats playing college football next year.

"Ben Tusson has gotten some offers," Ashcraft said. "He has a very high ACT score, which has opened some doors for him to possibly walk on at a bigger school. He's still going on visits. Corven Alexander is another senior that has gone to some schools for visits but did not sign today. And Elijah White has some offers on the table, too.

"Tyler Langley could have gone to a lot of different schools to play quarterback, but he's kind of locked in to baseball. He thinks that's a better fit for him right now, and we sure wish him the best of luck with his baseball career."