27 Jul

Four Bears named to All-ASUN Team

CONWAY, Ark. – Four University of Central Arkansas Bears were named to the preseason All-ASUN Football Team recently when the team was released at the 2022 ASUN Media Day at the Omni Hotel Atlanta.

The Bears were also picked in a second-place tie in the ASUN preseason coaches' poll.

UCA had two players on the offensive team and two on the defensive squad, including running back Darius Hale, offensive lineman Jaylin Hendrix, defensive end Logan Jessup and defensive back Tamuarion Wilson.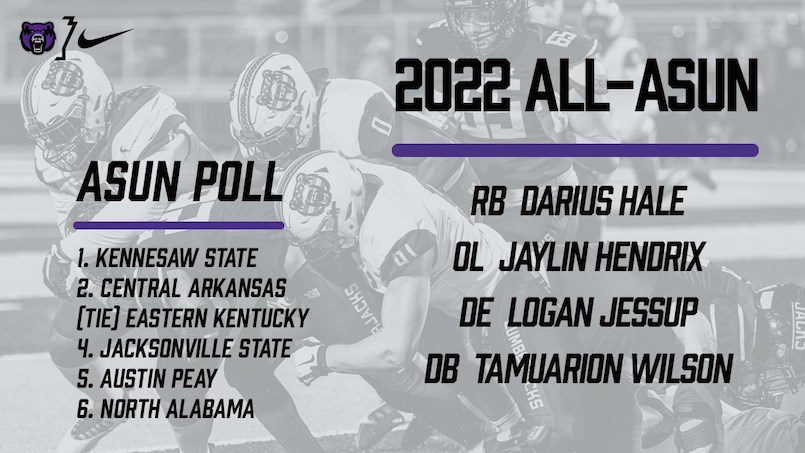 Hale, the ASUN Freshman of the Year in 2021 and the runnerup for the Jerry Rice Award that goes to the top FCS freshman in the nation, led UCA with 1,015 rushing yards and 17 rushing touchdowns last season.
"That was one of the best freshman years I've ever seen in person at UCA," said Brown. "Just the production that he had, the number of touchdowns he had, and obviously go over 1,000 yards as a freshman running back. And then to finish second in the Jerry Rice Award as freshman of the year in the country is a huge deal.
"I think the challenge for Darius is staying hungry, which he has done a great job of. Obviously people are going to know who he is now, they will study him more and they'll know maybe his strengths and weaknesses better, what he does well, what he doesn't do well. So it's going to take even better preparation, because obviously the skill set is there. But it's definitely something Darius is ready for and he deserves all the attention he's getting.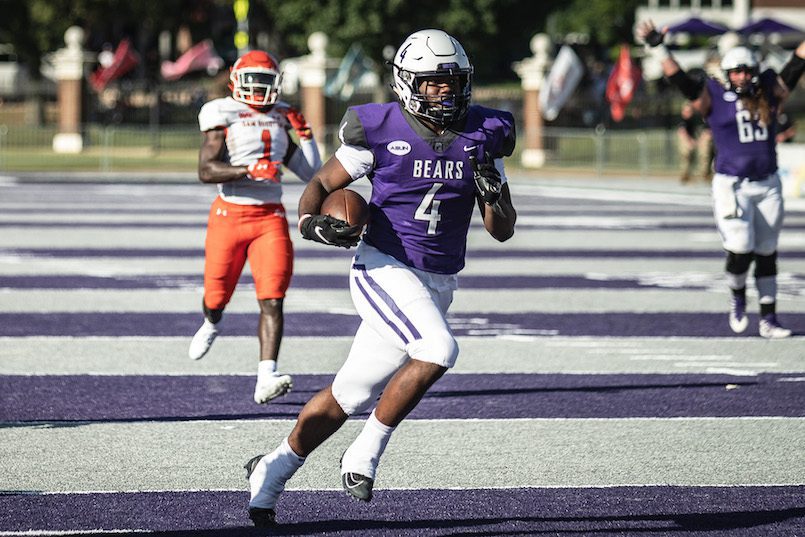 "I think he has a great football intellect, he's very smart, he proved that last year. His football intelligence is off the charts. And then just his physicality. He's at probably 235 pounds right now and runs probably a 4.5 (40-yard dash). He has that rare combination of great size but also the quickness and speed to create long touchdowns."
Hendrix, a 6-4, 315-pound senior from Everman, Texas, is a three-year starter all along the offensive line for the Bears. He earned All-Southland Conference and All-ASUN honors during his career.
"Jaylin returns as one of the top offensive linemen in the country," said UCA head coach Nathan Brown. "He's had a ton of success playing four positions on our offensive line. He's been an all-conference tackle in the Southland Conference and an All-ASUN performer at guard in the past two years. He's a guy that with a good year this season, could set himself up for an opportunity to play at the next level. 
"We're a little inexperienced in the O-line except for two positions, so having Jaylin back for his last year is going to be huge for us. He's definitely taken more of a leadership role this summer and he's probably had the best summer in his time here at UCA."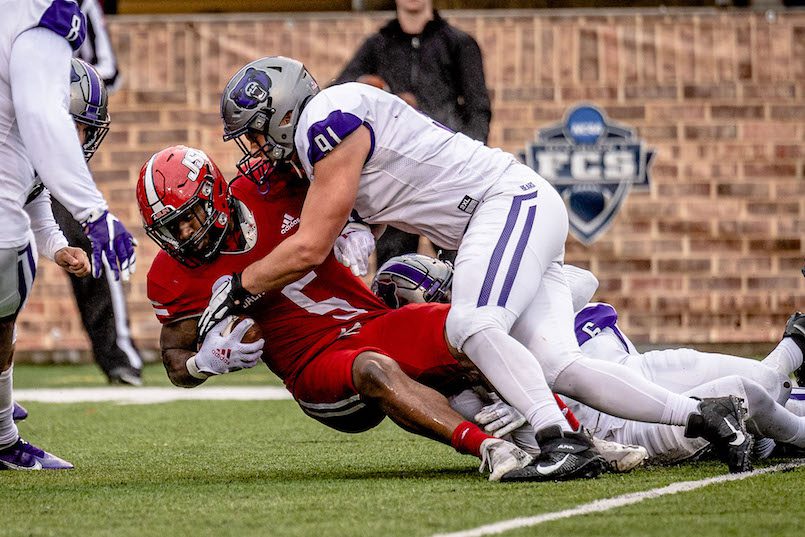 Jessup, a 6-3, 255-pound All-ASUN junior from Wynne, Ark., led the Bears in both sacks (5) and tackles for loss (11) last season while accumulating 60 total tackles.
"I think Logan is similar to Jaylin, he's a guy who's been here and had a lot of success," said Brown. "He's been an all-conference player on the defensive line in both conferences. And Logan is one of the most reliable and hard-working kids I've ever been around. When you say someone that wants to master his craft, someone that truly works to do that, that's Logan Jessup.
"He's taken ownership of the defense. I think he's someone that represents our program to a T. He's exactly what you'd want our Central Arkansas football program to be about. You would put Logan at the front of that line. Not only a great football player, but a great person."
Wilson is a 6-2, 205-pound sophomore from Bryant, Ark., was UCA's leading tackler in 2021 with 66 tackles, with an additional forced fumble and two fumble recoveries.
"To me, Tamuarion is one of the most physically gifted secondary guys we've ever had here," said Brown. "You stand next to him, you wouldn't even think he's a safety. He looks like a linebacker, but to run and move and shift like a defensive back, is pretty impressive.
"He's had success his first two years here, our leading tackler out of the secondary. And he's another young man that truly sets the tone on defense. He plays with an edge that you want your football players to play with. I think Tamuarion is going to have a breakout year, with the more experience he gets. And really what I've seen, the more pressure you put on him, the better he gets. And I think that's hard to coach."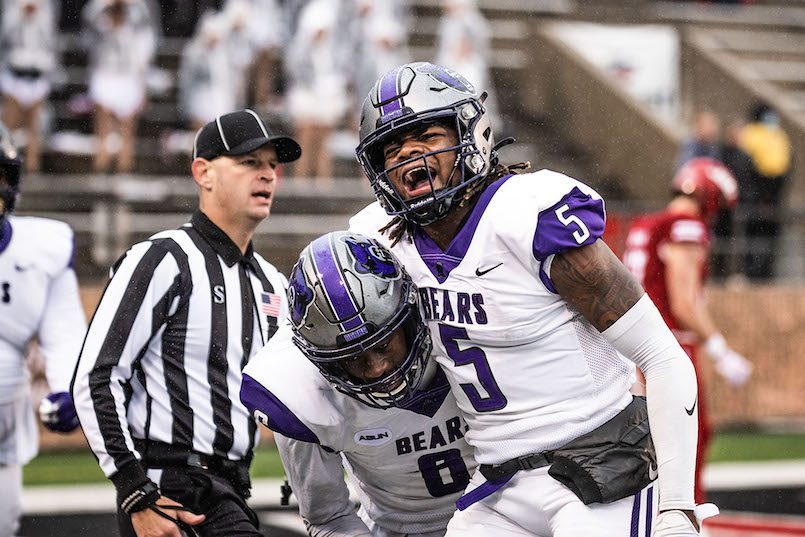 Kennesaw State was the No. 1 selection in the preseason poll after advancing to the second round of the 2021 FCS Playoffs. UCA and Eastern Kentucky were tied for second, followed by Jacksonville State, Austin Peay and North Alabama. UCA received one first-place vote and 25 total points. KSU had 34 total points and four first-place votes. Austin Peay received the only other No. 1 vote.
"I think if you look at the recent history, Kennesaw deserves to be No. 1 in the poll," Brown said. "They've obviously had a ton of success, a perennial playoff team, so no surprise with them being No. 1. And us being tied for second with a team the caliber of Eastern Kentucky is an honor. We have a lot of familiarity with Eastern Kentucky, playing them three times over the last two years, with all three games, being really competitive games. 
"You know, preseason polls, you take with a grain of salt. But to be in the top three in a high-caliber conference like this is a positive thing moving into the season."
UCA opens the 2022 season with a Thursday night matchup on Sept. 1 with Missouri State at First Security Field at Estes Stadium.