28 Sep 2020

Fountain of knowledge: Local instructor brings unique perspective to health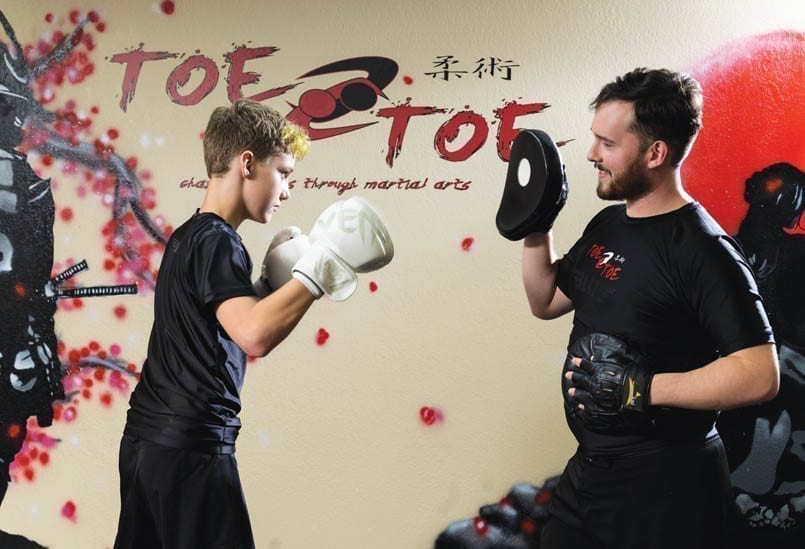 Joel Fountain is not only the marketing manager for Thriveworks in Conway, he is also an Certified Martial Arts instructor at Toe2Toe Martial Arts. Surprisingly, you can find him at both of these locations under the same roof.
Thriveworks is a local counseling practice that is part of a national therapy organization of counselors, psychologists and coaches. Some clients of the counseling practice are also part of the martial arts training.
Joel began his training through American Taekwondo Association (ATA) and became a third degree black belt. "I learned through ATA how to be a leader and I am grateful at how it progressed my life."
Fountain describes himself as a pretty happy kid who was very light-hearted. However, as most children do, he sometimes struggled with bullies. Fountain credits Taekwondo for giving him confidence to handle situations without violence, a philosophy that he is passing on to students. "I obviously wasn't looking for the bully to fight because I had these skills and could show maturity and not fight back."
His work today at Toe2Toe, which was started by Army veteran and life coach Curtiss Robinson, involves working with all ages, from 5-years-old to adults. "The main thing I love about being with this organization, and what sets us apart from other martial arts academies, is our work to give people the tools for self-defense," says Fountain. The group does not focus on intricate forms or weapons. Fountains feels this method makes their training more applicable to real life situations. "What we do makes you feel more comfortable in your own shoes."
Speaking of being comfortable with yourself, Fountain believes the services at next-door's Thriveworks can be equally important to anyone's overall health. "I believe therapy and counseling can be invaluable, really to anyone, because sharing your experiences is the first step to healing. Thriveworks prides itself on providing a professional atmosphere where patients feel very secure. They leave knowing their provider has their best interest at heart."
Fountain says it was an easy move to combine the counseling services with martial arts training. "When you combine therapy with personal training, you are improving your physical and mental health at the same time. It all coincides."
Being in both of these environments has led Fountain to research the psychology of teaching. "When I am interacting with my martial arts students, you aren't thinking `this is a therapy session,' but you learn to be aware of what motivates people or what their fears are and, as a teacher, we should be sensitive to all of these things." Fountain has been known by many to be very empathetic with his students and they know that even when he is stern, to not be afraid.
Fountain is especially proud that between both organizations, they are improving many kids' self-confidence, focus and discipline. "We really are changing lives through martial arts and that is a blessing."