19 Aug

FOUNTAIN LAKE: Cobras gaining ground in 7-4A
Conference: 7-4A
Coach: JD Plumlee
'17 Record: 4-6
The new-look Fountain Lake Cobras found some success in their first year under JD Plumlee. "Last season, we battled and competed very well and were able to win some games in the new system," Plumlee said.
With five starters returning on each side of the ball, the Cobras look to climb higher in the 7-4A ranks this fall.
Junior Ian Lacy leads Fountain Lake's spread offense at quarterback. He has a number of targets who rotate at receiver — seniors Ahman Johnson, Garron Campbell and Colson Simpson; and sophomore Owen Barthel. The Cobras boast a senior-laden backfield with running backs Andrew Roberson, Joe Murphy, Kyle Fortner and Dylan Wasson. Depth isn't an issue on the offensive and defensive lines with several upperclassmen rotating: seniors Gunnar Wetherington, Carson Tillery, Ryan Lavalle and Skylar Messman; and juniors Connor Thomas, Cameron Warren and Jesse Hoffman.
Junior Caleb Parker, sophomore Bryce Stauder and Roberson, Murphy, Fortner and Simpson comprise a strong bevy of linebackers. Johnson, Wasson, Campbell and Barthel defend the secondary.
"Offensively, we will be in the spread and look to run the ball more this year," Plumlee said. "Defensively, we will be in an even front and mix up the secondary and show multiple looks. The 7-4A will be very tough again from top to bottom. Arkadelphia is the defending state champs in 4A, and they have a lot returning from last year.
"Our strengths will be our skill players that we have returning. Our weaknesses will be our offensive and defensive lines — we have a lot of new faces on both sides of the ball."
5 Players to Watch:
Andrew Roberson (Sr. RB/LB/CB)
Ahman Johnson (Sr. WR/DB)
Colson Simpson (Sr. WR/LB)
Joe Murphy (Sr. RB/LB)
Dylan Wasson (Sr. RB/DB)
1 Must-see Game:
"Arkadelphia, the defending 4A state champs, come to town Oct. 5." — 501 staff
2018 Schedule:
Aug. 31at Hot Springs
Sept. 7 HS Lakeside
Sept. 14 Dover
Sept. 21 at Robinson
Sept. 28 Nashville
Oct. 5 Arkadelphia
Oct. 12 at Bauxite
Oct. 19 at Malvern
Oct. 26 Harmony Grove
Nov. 2 at Ashdown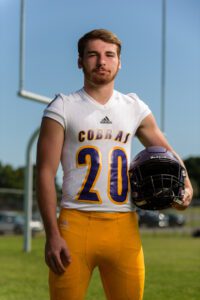 501 Football Team '18
Joe Murphy
Classification: Sr.
Position: RB/LB
On the field: Joe has a nose for the football; he studies the game and is always around the play.
Off the field: Off the field, he is on the leadership team and looks for things to do to help our school and community.