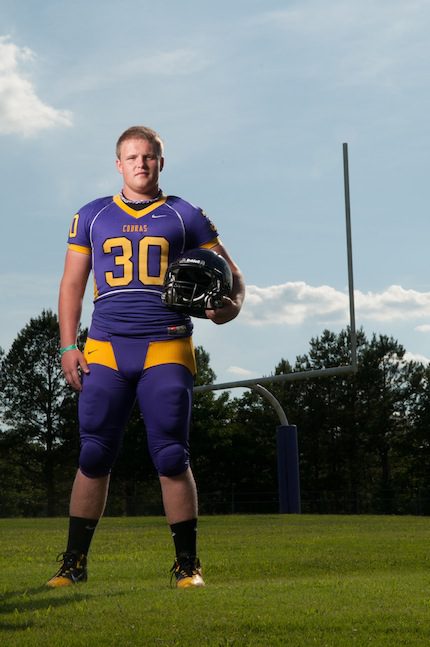 11 Aug 2012

FOUNTAIN LAKE: Cobras eye conference, state championships

Classification: 5-3A
Coach: Thomas Gilleran
Last Season: 9-5 (6-1)

Fountain Lake fell just short of reaching the 3A state championship in 2011, losing in the semifinals for the second straight year, 26-23, to Charleston.


"The team came on late last year and was a couple of plays away from playing in the finals," said Coach Thomas Gilleran.


Fresh off their state weight meet title, the Cobras return stronger and rejuvenated in 2012. Senior James Cooper (6-0, 165) takes over at quarterback after backing up graduated Michael Pope last season.


Quick-footed receiver Jordan Stone (5-8, 150) averaged 26.4 yards per catch last year and is on pace to break the all-time record for career average yards per catch (26.3). The senior racked up 1,135 yards and 16 touchdowns last season and will play a large part in the offense. Senior tight end Dakota Weatherford (5-8, 175) should also get looks from Cooper.


Powerful fullback and 501 Football Team honoree Mackenzie "Big Mack" Ross (5-11 225) led the Cobra rushing attack in 2011 with 1,165 rushing yards and 18 touchdowns and is expected to have a big year.


"Ross runs the ball with the personality to hurt someone," Gilleran said.


The Cobras return six defensive starters, including senior linebackers Andrew Barber (5-8, 160) and Ethan Obear (5-9, 175) and senior linemen Dalton Darland (5-11, 215) and David Alford (5-8, 210).


"Defensively, we will be as good as we have been in the past," Gilleran said. "The offense will be as good as the offensive line develops."

501 Football Team 2012 –


Mackenzie Ross
Classification: Senior Position: RB
On the field: He runs the ball with the personality to hurt someone.
Off the field: Loves helping other people. He is in Fellowship of Christian Athletes (FCA) and other organizations.
Sportsmanship: Always helping other teammates. His personality makes you like who he is.
Classroom: He works hard in the classroom to help others. Expectations: All-state.