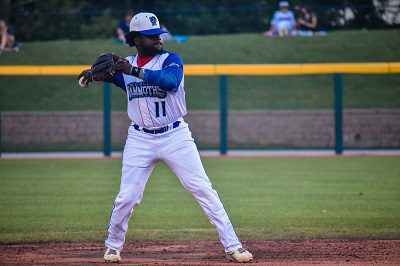 20 Aug 2017

Former CBC player signs pro contract

Former Central Baptist College baseball player Jalin Lawson has signed a professional contract to continue his baseball career. Lawson signed with the Westside Woolly Mammoths of the United Shore Professional Baseball League on Aug. 7.

"I'm so proud that Jalin is finally getting a pro contract," said Mustangs head baseball coach Dr. Aaron Brister. "He is a two-time NAIA and NCCAA All-American and put up phenomenal numbers playing here. I am proud of the things he has accomplished and pray that his future in baseball will be a success.


"Our motto here is 'Building a Tradition…Leaving a Legacy.' Jalin was a big part of helping build our winning tradition as a Mustang."


Lawson played two seasons at CBC and was an All-American both years, earning a first-team selection in 2016 and a second team selection in 2017. Lawson had impressive numbers in his seasons at CBC, recording a .403 batting average with 34 home runs and 115 runs batted in, while scoring 135 runs and walking 71 times to just 32 strikeouts.


"We are happy to have him here," said Justin Orenduff, director of baseball operations for the USPBL. In three contests since signing, Lawson is two-for-eight with two RBIs and three walks."


In just its second season, the USPBL has sent 18 players to Minor League Baseball. The league, which launched in May 2016, plays a 75-game schedule from May-September. All games are played at Jimmy John's Field in Utica, Mich.


For more information about the United Shores Professional Baseball League, visit uspbl.com.