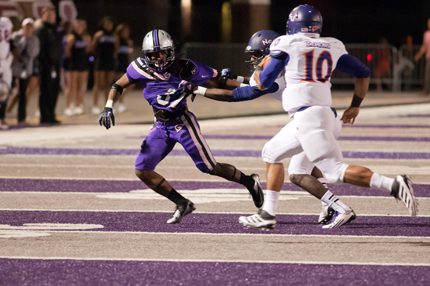 17 Nov 2012

Former 501 Football Team member making his mark at UCA

by Lee Hogan

Coach Clint Conque knew on National Signing Day in February that he'd signed quite the player in Dillion Winfrey.

Conque went on and on about Winfrey's ability and the versatility he provided to possibly play on offense, defense and special teams.

"Probably one of the best athletes in the state," Conque said during a press conference announcing the signing class. "If this young man was an inch or two taller, he would probably be wherever he wanted to go."

At 5-foot-8 and 175 pounds, the Bryant native, who played both receiver and defensive back in high school, has his work cut out for him every time he steps onto the football field, but Winfrey makes up for the size difference with his ability.

"Love his mentality," Conque said in February. "He's a competitor, he's explosive and he's very physical for his size."

Conque knew Winfrey, a 2011 501 Football Team member, had a promising future at the University of Central Arkansas, but he didn't expect that future to begin so quickly. Winfrey has appeared in every game this season; his time in the first five came mostly on special teams, which Conque thought would be the place Winfrey would have the most effect early in his UCA career.

"We think he's going to be the future in our return game," Conque said earlier this season. "We thought that maybe that might be a place where he would make a quicker impact."

What Conque and the rest of the coaching staff didn't expect was that Winfrey would pick up the defensive schemes and coverages so quickly over the summer. Winfrey's work got the attention of his coaches and got him on the field.

"It was just a matter of time before he earned the right to get on the field," Conque said.

Winfrey earned his first start of the season at cornerback against Nicholls State on Oct. 6.

The revelation of starting was a lot to handle for the freshman, who lost his dad in May just two weeks prior to his high school graduation.

"This is all [my dad] wanted for me," Winfrey said. "For me to finally start, and I'm a true freshman, I didn't know how to handle it."

Winfrey said he struggled in dealing with his father's death over the summer. To cope, he turned to working out constantly.

"I didn't know how to handle my dad dying, so I would just work out all the time because that was the only time I was happy," he said.

That hard work over the summer paid off in Winfrey's first start of the season, in which he had five tackles and his first interception. The interception helped Winfrey settle in and get into the groove he usually found on Friday nights at Bryant.

"It was like high school all over again," he said. "The game wasn't as fast, it slowed down for me. It was amazing."

Since Nicholls, Winfrey has earned every start at corner, and his play hasn't disappointed. Against Southeastern Louisiana on Oct. 27, Winfrey led the team in tackles with nine. He also had three pass breakups.

Through nine games, Winfrey has 30 total tackles, which ranks seventh on the team.

Conque said Winfrey is "very detailed" and "tackling very well."

"He's playing very well with his eyes," he said. "He certainly has a grasp on what Coach [Kenny] Wilhite and our defensive staff want done over there at corner. That's made us better."

Winfrey said his freshman year, from his first time on the field at Ole Miss to his first start against Nicholls, has been a dream come true.

If the rest of his career is anything like his freshman year, Winfrey could leave quite the impact on UCA football.

"He's really started to entrench himself as a quality corner," Conque said.