24 Jul 2018

Forgotten: Efforts under way in the 501 to support seminary

Posted at 12:19 AM

in

Faith

by Arv Cogdill

My family are members of Central Baptist Church, which has a heart for missions and a sincere desire to win souls for Jesus Christ. 

My wife, Myla, is from Mindanao, in the southern Philippines. We were visiting my wife's family there about three years ago and stopped by a small Southern Baptist Church close to her sister's home in Rosario, in Agusan del Sur Province, about three hours north of the City of Davao. We spoke with Pastor Dino Fajardo, the interim church leader, and for a short time after returning to Conway, we kept in contact with him and his family. 

After our initial visit in 2015, our Bible study class at Central Church raised funds to get internet for the Rosario church. We considered some type of deeper partnership so we could begin mission trips and provide for other needs but because they had a change in pastors, it caused a delay. Today, the church has a new and vibrant pastor who recently graduated from the Davao Seminary. As only God could make happen, the new pastor and my wife are cousins.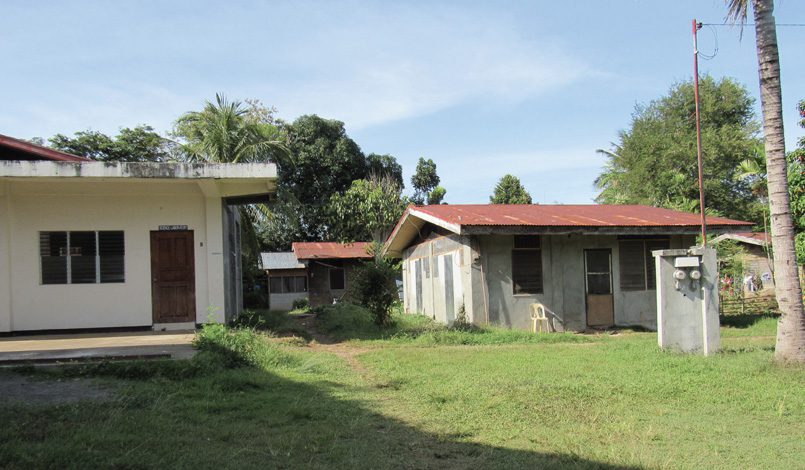 MARCH TRIP 
We planned a trip as a family and were joined by Mark Bailey, a member of our Sunday school class at Central Church. On Sunday, March 18, we visited the Rosario Southern Baptist Church for the second time. 
The church has 200 active members and has planted five new churches within the past five years. There are two young men in the seminary in Davao who are members of this church. Some 20 new members have been saved and baptized since Jan. 1. The congregation conducts a minimum of two medical missions a year to rural parts of Mindanao and surrounding islands where the population is predominately Muslim.
We witnessed a heart sobering moment of truth while attending the men's Bible study at the Sunday morning worship service. When the collection plate was passed in the men's class, we saw an older Filipino gentleman put two pesos in the plate (the equivalent of about 4 pennies in the U.S.). That was all he could give, but he gave it willingly from his heart. It reminded us of the story in the New Testament about the widow who had very little but gave what she had when she could. 
Prior to leaving for the Philippines on this trip, especially after discovering that the new Senior Pastor in the Rosario SBC church had graduated from an SBC seminary in Davao City, I decided to do a little research on the seminary (facebook.com/spbtspuan).                               
We discovered a connection to the Baptist Foundation of Oklahoma. Dr. C. Wayne Childers from that organization, along with Dr. Steve Kern from Oklahoma City's Olivet Southern Baptist Church, were conducting seminars there for upcoming pastors and recent graduates. They were working alongside seminary faculty and some SBC pastors from local churches. We took this information to Dr. Ben South, our associate pastor for education and missions at Central Church, who encouraged us to pay a courtesy visit while in country. 
SEMINARY CONDITIONS
After arriving in Davao on March 16 and prior to going on north to the church in Rosario, we visited the seminary and spent time with the seminary president, Dr. Edgar Aungon. During our conversation, we discovered that he was asked to come out of retirement to lead an effort to restore the seminary. Facilities, curriculum, technology; all are outdated or non-existent. 
We immediately realized that this would require much more time than just a cursory visit. The discussion went from a half-hour meeting to almost seven hours of fact-finding, discussion and documenting. Once we were aware of the tremendous need, we soon realized that we needed help raising both awareness and resources as a means of restoring the seminary. That became the basis for this article. 
Dr. Aungon informed us that they receive no financial support from the Southern Baptist Convention's International Missions Board (IMB). The board withdrew efforts in the Philippines several years ago because it is considered to be an "evangelized nation." There are only two Southern Baptist seminaries in the Philippines. One is in Davao City and another is located in Baguio City, about 1,100 miles due north (about 100 miles north of Manila, the capital city).
It appears that the Baguio seminary is doing well financially because of its proximity to Manila, but the same could not be said about this one. The facilities are degraded to the point that they would be condemned in Conway or any other U.S. city. Dormitories and faculty housing are infested with rats and snakes. There are holes in walls, leaking ceilings, lack of sanitary restrooms and kitchen areas, and generally unlivable conditions throughout the almost 10 acres that the seminary occupies. The library is outdated with some curriculum materials and textbooks that are more than 30 years old. Technology is almost non-existent.
Mark and I took still photos and videos and conducted taped interviews beginning on our initial visit and again on March 21, after returning from the Rosario portion of our trip. We presented our findings to Senior Pastor Don Chandler, to the Central Church men's prayer breakfast group, to our Bible Study group and to several other groups. We are willing to share it with anyone who might have an interest and a heart to help.
SERVING GOD
On a positive side, everyone we met at either the Rosario Church or the seminary is actively serving God in some way. There is a strong discipleship model in place that seems to grow despite a lack of resources. Although resources are scarce, determination makes up the difference, but like anyone else, the gross lack of support is discouraging. Our visit brought back a spark of hope, but for them to be able to continue to train new pastors and spread God's Word, the seminary needs help desperately. 
This seminary is the heart and soul of God's work in the Southern Philippines but it is disintegrating due to lack of resources. It will not sustain itself under current conditions. If it folds, the evangelical Southern Baptist mission in this part of the Philippines will fold with it. It is badly in need of resources just to keep it functioning and make the facilities, including classrooms, habitable. If this does not occur soon, the seminary is in danger of suspending operations which will affect the outlying churches and the Southern Baptist Convention's mission of evangelism in the Philippines. 
Between the time of our visit in the early spring and now, we have continued our attempt to raise awareness. Central Church was very kind to donate several older computers to the seminary. 
We have also gotten a commitment from TECH-SERVE International, a Christian construction company that works hand-in-hand with Wycliff Bible Translators, to provide a construction project manager for up to a six-month period to oversee restoration once funds are raised. They are located in Greenbrier and this is done by them on a volunteer basis. It will provide necessary oversight and technical expertise for the facility upgrade projects, but it is dependent upon donors who feel led to support the ongoing effort.  We need $35,000 to $40,000 to complete the facility upgrades.
There is much "spiritual competition," primarily from Islam and several quasi-religious cults that have sprung up throughout this part of that nation. This institution is the only place that educates Southern Baptist pastors that are badly needed to keep God's Word alive in this part of the Philippines. 
LOVE FOR THE LORD
The matter of giving to support God's work across the world is between each of us and God. He always considers our circumstances and knows when they are beyond our power to direct and control. The important thing is that we see giving to support missions across the world as a privilege and not a burden. It should not be out of a sense of duty, but rather out of love for the Lord and a desire to see His kingdom advanced.
Second Corinthians 9:6-7 says: "Remember this: Whoever sows sparingly will also reap sparingly, and whoever sows generously will also reap generously. Each man should give what he has decided in his heart to give, not reluctantly or under compulsion, for God loves a cheerful giver."
If this seminary is resourced properly, it has the potential to become a "Center of Excellence" that can be a shining light in a dark corner of the world. As Christians in Arkansas, we can help make that happen. If we do, God's blessings will certainly come to those of us who chose to make it so.