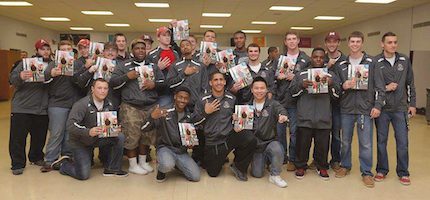 18 Nov

Fore! CBC's Ryan scores an impressive start

by Mark Oliver


In just a few short weeks, Central Baptist College freshman golfer Colton Ryan has had the ride of his life. From tournament wins to national championship appearances, the Benton, La., native has jumpstarted his college career with a big swing.


"It's been a long ride for me," Ryan said. "I grew up playing against a kid that was always better than me. I lived in his shadow and it pushed me to get better every day. Over the past couple of years, I was doing extremely well in tournaments, but couldn't get that first win. Sure enough, I finally got my first win in the last Texas Junior Golf Tour tournament and it gave me so much confidence moving forward."

In his first collegiate tournament, the business marketing major found a way to finish near the top of the leaderboard — an impressive feat for a freshman.


"My first tournament with Central Baptist College was in September at the Southwestern Christian Invitational in Oklahoma," Ryan said. "Going into that tournament, I felt good. I knew that I had put in the time for it and I wanted to make a big freshman debut. On my last hole, I three-putted to finish second solo and ended up in fifth place overall. At first, I was beating myself up about it, but I realized that a fifth-place finish in your first collegiate tournament was very positive."


Ryan's top-five finish left him hungry for more. Just weeks later, the freshman found himself traversing the same course, Lake Hefner North in Oklahoma City, for the NCCAA Central Regional.


"Going into the regional, I was feeling good about my game," Ryan said. "I felt positive going into the tournament because I knew that I had seen the course before. On the first day, I shot four under par. I shot one under par on the second day. Going into the third day, the wind picked up and I knew that I wanted to make as much progress as I could to make a strong finish."


To help him focus, Ryan played the entire tournament without knowing the standings.


"After the first round, my teammates and I all went out to eat," Ryan said. "At dinner, I told them that I didn't want to know anything about the leaderboard. I didn't want to know if I was ahead or behind, I just wanted to play golf and not think about it at all."


Despite not knowing the score, Ryan felt the pressure rising as he approached the final holes of the tournament.


"I remember walking toward holes 17 and 18 and feeling the nerves kick in," Ryan said. "Although I didn't know the score, I knew I was leading. The last few holes of the course are pretty tough, and I knew that I wanted to come up big. After I birdied the 18th hole, I gave a fist bump knowing that I had earned my biggest win of my golfing career."


Ryan had won the tournament by an impressive five strokes — a performance that helped the Mustangs finish second as a team and propelled Ryan to NCCAA Student Athlete of the Week honors.


"When the announcement was made, my mom was so excited to tell me," Ryan said. "It was so exciting for me to receive that honor in just my first semester. It means a lot to me. I wasn't expecting anything like that."


In addition to Ryan's win, the Mustangs' performance helped the team secure a place in the National Christian College Athletic Association National Championship in Palm Coast, Fla., where Ryan shot a 238 en route to an eighth-place Mustangs finish.


Fresh off the biggest stage in his sport, Ryan's already looking forward to what's next.


"Next semester, Coach (Lyle) Middleton is talking about playing five or six tournaments," Ryan said. "It's going to get busy for us and we're focusing on one tournament at a time."


As a successful fall season ends for the Mustangs, Ryan reaffirms his decision to choose the 501 as his new home.


"God didn't want me to go anywhere else but Conway," Ryan said. "I sent out a lot of information to different schools, but every door was closing for me. I sent Coach Middleton my information and I got a call back the same day. I liked what he had to say. I came to visit the school and liked it. My experience so far has been crazy, but I'm enjoying every minute of it here at Central Baptist College."


Ryan and the Mustangs will return to the course in the spring for their NAIA season.