31 Jan

For the love of fitness

By Justin Dorathy
Personal Trainer/Certified Nutritionist at Beebe Athletic Club

When you are setting fitness goals, it's important to train with a purpose. Each workout then becomes a chance to take a step forward in achieving that goal rather than just showing up to workout with no plan. Look at it as being able to make a deposit in the workout bank where each workout makes you owe a little less of an amount of time/sweat to reach the goal!

I set fitness goals for myself often in signing up for events that will hold me accountable to be ready to show up at my best. Sometimes, it can be hard to see the end goal of being ready for an event/goal. For myself, it's important just to enjoy the process of training while getting into a routine.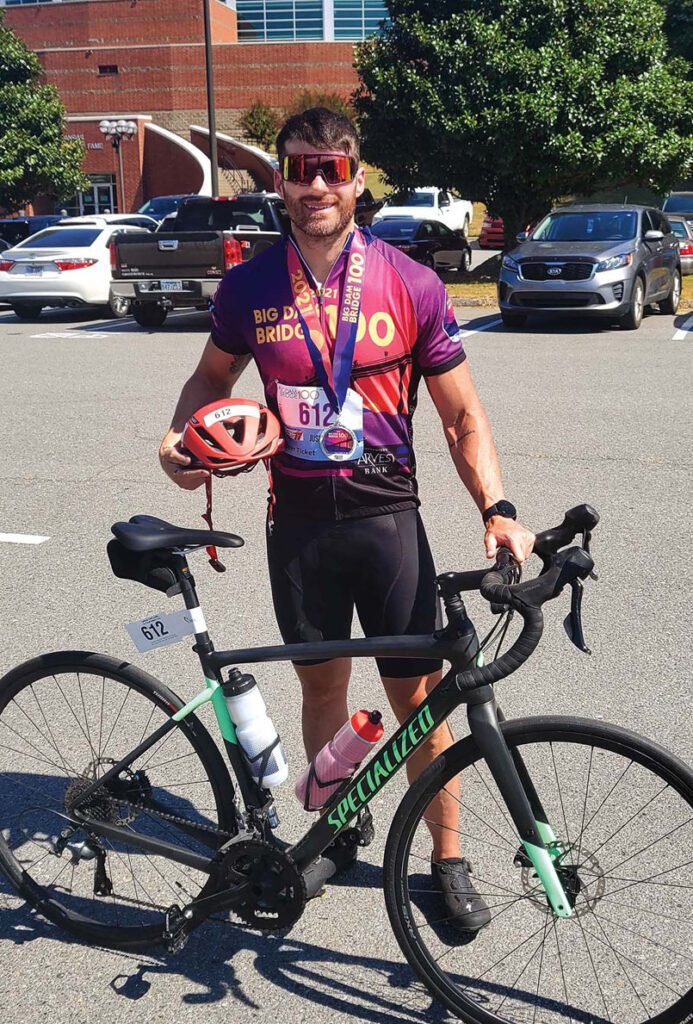 Consistency is the key with any goal, whether it be weight loss, muscle gain, or a race you're preparing for. If you don't show up and put the work in consistently you are less likely to achieve that goal, so I keep these things in the back of my mind always when training gets tough. Also, it's a privilege to be healthy enough to chase fitness goals because someone out there may be wishing that they were able to do something that you are, so I don't take it for granted. I keep that in mind when it gets tough and push through it.
Winning the 2021 Lake DeGray Duathlon was an amazing feeling. I put a lot of work into stringing several races together leading up to the Duathlon. In 2020, I competed at the same venue and finished in 50th place. From then on I made it a personal goal to come back and win the Duathlon the next year. The biggest takeaway I learned was that you get out of training what you put into it. Three times a week I would commute to Little Rock and ride my bike on the River Trail to train. I was doing this all on top of training clients averaging 40 to 60 sessions a week. So in short: if it is important to you and you want to make it happen, you will find a way.
If you want to be part of an event like this, or maybe a 5K, my rule No. 1 is to sign up! No race is real until that leap of faith is made and you get your name on the list. Once you have made the commitment to running a 5K and have a date solidified, then the training can begin. If starting from little to no running experience, it is important to start slow with the 80/20 rule of endurance. Eighty percent of your runs should be at a comfortable pace where you can carry on a conversation while pacing to avoid injury and build an aerobic base. Twenty percent of your runs should be tempo/speed-based, where you are trying to hit a certain pace per mile to improve performance while building your anaerobic tolerance. Running a 5K every day isn't required when prepping for the race; marathoners do not run a marathon every day when training. Building up a solid level of base training through consistency and developing aerobic/anaerobic endurance to run the 5K is the best plan of action.
Cycling is another a great addition to anyone's fitness routine, whether they are trying to lose weight, gain endurance, or just get outdoors to enjoy the beautiful Natural State of Arkansas! Cycling is a low-impact exercise that burns an abundance of calories while offering cardiovascular benefits from the different intensity ranges on the aerobic/anaerobic spectrums. Cycling will help anyone trying to lose weight as it allows people to burn calories while avoiding long periods of impacts on the knees that other forms of cardio may have. Cycling will also benefit someone looking to train for running events because it allows them to build endurance on the days that they may be recovering from a long run that has given them some wear and tear on their body.
Arkansas offers many places to rent bikes from casual cruisers to road bikes, which is a great place to start your cycling journey. Beautiful scenery in Central Arkansas can also be enjoyed on cycling-friendly trails, such as the Arkansas River Trail in Little Rock. The comradery of thousands of cyclists coming together for the 2021 Big Dam Bridge 100 was something special. And of course, crossing the finish line on the River Walk gives you a special feeling!
Know that we are all capable of so much more than we think. In terms of fitness, no one is any more special than the next. If you want results, put the time in and it will happen. Consistency and showing up daily are key. Every workout will not be your best but if you put in a consistent effort, your body will respond by reaching your goals whatever they may be. Don't forget to have fun with it along the way! Physical fitness is a privilege, not a chore.